Self-care tips for business owners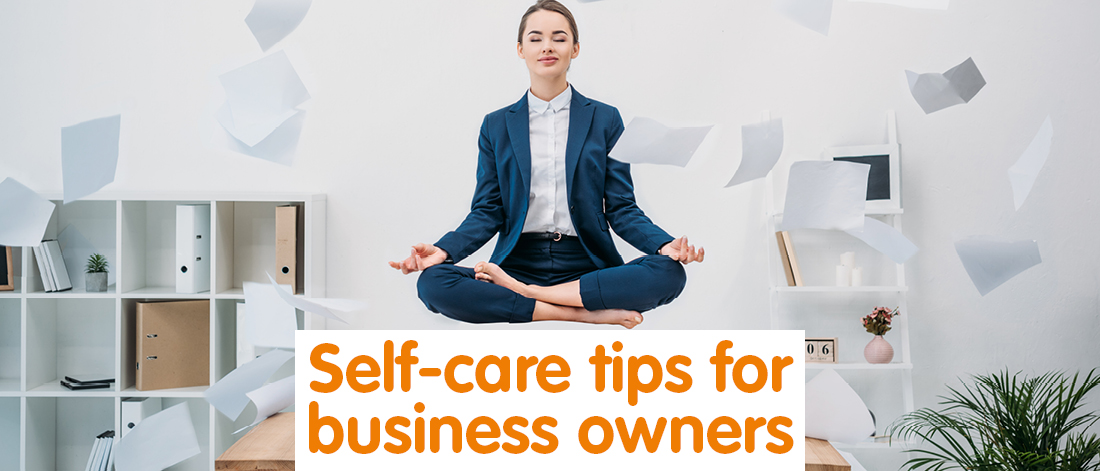 Running a business is something many people to aspire to do, but once you get there, the reality can be much more stressful than you might have imagined – and this can have an impact on the whole of your life. In fact, research by Xero has found that one in ten business owners admit that the stress of running a business has negatively impacted their mental health.*
But running a business can also be hugely rewarding (and lots of fun!) – so how can you ensure that you get the best out of entrepreneurship, while also learning how to deal with the stressful parts in a healthy way? Well, you have to be realistic about the challenges involved, and you must take the time to look after your mental health. Not sure where to start? Here are 4 of our top self-care tips for business owners!
1. Look after your body
Quite often, when we're preoccupied with work, we can push our bodies beyond healthy limits in order to get everything done. But your body and your mind are not neatly separated, and neglecting one will inevitably have a negative impact on the other. Therefore, one of the best ways to maintain good mental health is to take care of the basics of physical self-care: get enough sleep, take regular exercise, avoid excessive caffeine and alcohol, and eat as healthily you can.
2. Say no
A key skill for any business owner is being able to say no. At times, you may get lots of offers for work all at the same time, and it's tempting to say yes to everything because you don't know when the next opportunity will come along. But you must be realistic about your time, and about how many projects you can take on, and learn to say no. And remember, you don't have to turn things down just because you're already busy – you can also do it because you need time to relax.
3. Talk to someone
When things do get difficult, it's important to find someone to confide in. This person could be someone you're close to – a friend or family member – or another business owner who works in a similar field to you. If possible, it's good to have a mixture of both of these things, as one can offer comfort and support, and the other can share their knowledge and understanding.
4. Ask for help
However much you might want to, you cannot run a business alone, and sometimes you're going to have to ask for help. Maybe you need the people around you to spread the word about your business, or maybe you've taken on too much work and need to outsource some of it to a virtual assistant. Whatever you need, help is out there – but you do have to ask for it. And trust us, you'll feel much better when you do!
Do you need help running your business? Our team of professional virtual assistants provide all sorts of useful business services, from accounting to telephone answering to web development, so you can free up your time for the really important stuff – including taking a break! To find out more about what we can do for you, just give Get Ahead VA a call on 01483 332220 or email us at office@getaheadva.com. We pride ourselves on being the staff you don't see, but the difference you do.
* https://londonlovesbusiness.com/small-business-big-stress-new-research-reports-soaring-stress-levels-among-uk-businesses/
Find out more about our services or call 01483 332 220 to discuss in more detail.
---
---