Ten realistic social media ideas for small businesses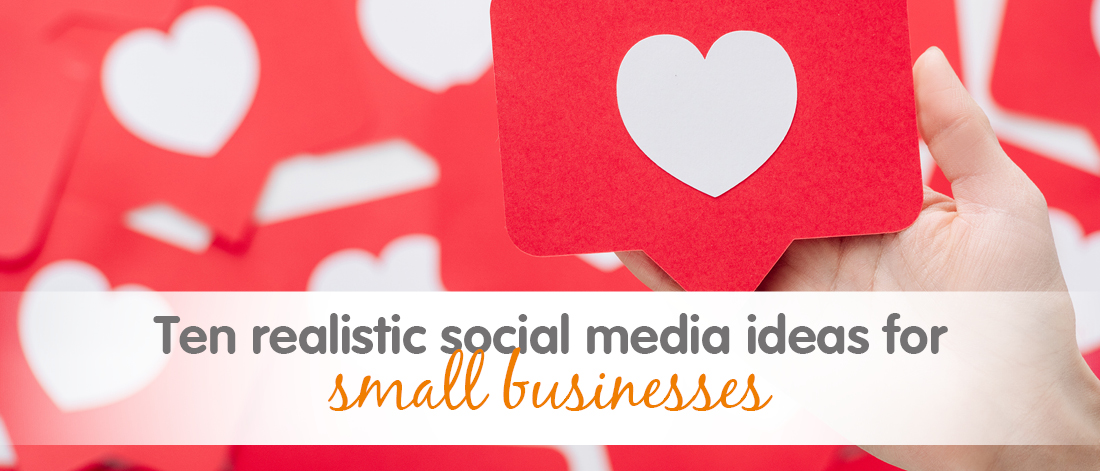 Social media is one of those tasks that small business owners should be giving their attention to, but many of us don't have time. To make life easier, we've pulled together our top ten ideas for social media posts. They're all doable, realistic and tested, so if you're staring a blank screen, try one of these!
You could share a "word of the week" if you work in an industry with a lot of jargon or acronyms. Alternatively, you could choose a client of the month, say why you love working with them, share a case study and a link to their website.
The great thing about structured, regular posts is that they make it easier to think of next week's or next month's.
Everyone loves a freebie and who knows, once they've sampled your product or service, they might sign up as a paying client. If you work in retail, giveaways are easy because you have physical products, but you could also give away a service, like an hour's virtual support or a free business accounts health check. Giveaways are also a great way to build new followers – ask people to follow your page to be in with a chance of winning.
Social media platforms have their own rules for giveaways – read more about them here.
Competitions have all the attractions of giveaways, with the added bonus of helping your small business too. Perhaps you are looking for suggestions for a new campaign, or you want to gather more information about your followers so you can target them better. Asking followers to share photos of them using your products, for example, will give you access to future content (remember to ask permission) and may give you some insights into your customers too.
Pick an FAQ and answer it. Advertise a Q&A or AMA (ask me anything) session and be present to answer any questions your followers throw at you!
You can share videos directly to most social media platforms, or you can reshare links to any business videos you have sitting on YouTube. Briefly introduce them and then let the video tell the story. Videos have great traction rates on social media, and many people would rather sit and listen than read and scroll.
Professional videos look great, but there's something really authentic about you just whipping your phone out and talking to camera. Choose the method that works for you and creates the right impression.
If you have a business blog, share and reshare that content! As long as it's still relevant and accurate, there's no reason why you shouldn't share a blog you wrote a year ago or more. It'll drive traffic to your website and boost your SEO, as well as providing you with today's social media post.
Maybe people are "liking" your posts, but do they really know who you are and where to find you? Share a link to your home page or your about page – the serious followers will be interested to know more.
Memes (pronounced "meems") are those life quotes with pretty backgrounds, usually shared as an image. Depending on your industry, they can make very successful social media posts. Many go deeper than "live, love, dream" so it's well worth creating something insightful if you've got wisdom to share.
Google your favourite life quote and click "image" to find it in meme form. Alternatively, make your own!
If your clients have been active on social media and you've enjoyed their posts, hit the share button. It can help your relationship with them, and create variety for your own social media pages too.
Another way clients and customers can help with social media is through testimonials. If you've just received a positive one, share it on social media and thank the person who wrote it. Resist any temptation for self-deprecation; instead, praise the client in return and say why you enjoyed working with them.
Outsource your social media
Alternatively, it might be time to outsource your social media. One of our experts could run your social media for you, creating the right posts for your business and ensuring they go out regularly. To find out more, get in touch on 01483 332 220 – we'd love to hear from you.
Find out more about our services or call 01483 332 220 to discuss in more detail.
---
---