Kickstart your career in 2020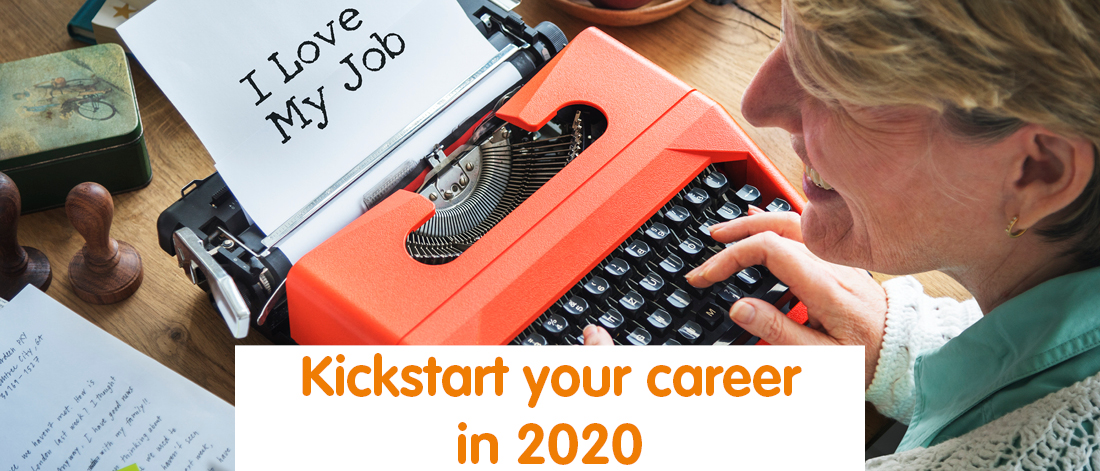 If you've found yourself reflecting on your career over the Christmas break and thought about making a change, you're not alone. 'Find a new job' is one the most popular New Year's resolutions around, and January is an ideal time to do it, both because the job market kicks back into gear after the holiday lull, and because of the psychological push that comes from a new year and a fresh start.
But how exactly do you go about making a big career change? We've listed some of the most important steps you can take on your path to a new career, to get you off to a good start. Here are 4 ways you can kickstart your career in 2020!
1. Set goals
Before you can set off, you have to know where you're going, so write down your career goals – from the most humble to the most fanciful. Now organise these into more manageable categories: what can you achieve this week, this month, this year? What's going to take longer? If you have a very large, seemingly distant dream (e.g. become a CEO, start your own business), can you break this down into smaller, more achievable steps? Doing this will help you to build a clearer roadmap towards your career goals.
2. Reconsider your current role
If you're feeling dissatisfied at work, the solution may not necessarily be to find a new job elsewhere – there may be opportunities in your current role that you haven't yet tapped into. Schedule a meeting with your boss to discuss why you're feeling unfulfilled, and to talk about any new challenges you could take on. A new year is a great opportunity to rethink your current job and make it work better for you.
3. Get job hunting
If the answer to your career woes is to find a new job, there are plenty of things you can do to improve your chances. First, make your CV and online profiles (e.g. LinkedIn) as comprehensive and up to date as possible. Next, research: look at companies you'd like to work for and jobs you'd like to do, find where the gaps are in your training or experience and then find ways to fill them. Finally, build connections with people in your preferred industry or job role – they may be able to pass on valuable insider information that will help you make the move.
4. Start your own business
For many, starting a business is the ultimate career dream, and it may not be as impossible as you might think. One great way to do this is to open a franchise, meaning you can launch your own business without having to start from scratch. Get Ahead VA offers an exciting franchise opportunity that will enable you to open and run a branch of Get Ahead VA in your local area, with the backing of our established and award-winning brand.
However you choose to kickstart your career in 2020, we wish you all the best with your new venture!
---
2020 is the year to make your career dreams come true. Get Ahead VA's franchise opportunity offers an exciting chance to start your own business with the support of a fantastic team of people and a well-known brand. We're always happy to talk to anyone who's interested in opening a branch of Get Ahead VA in their area, so if you'd like to know more, visit our franchise website or contact Rebecca Newenham on (01483) 332220.
---
---