When and what to post on LinkedIn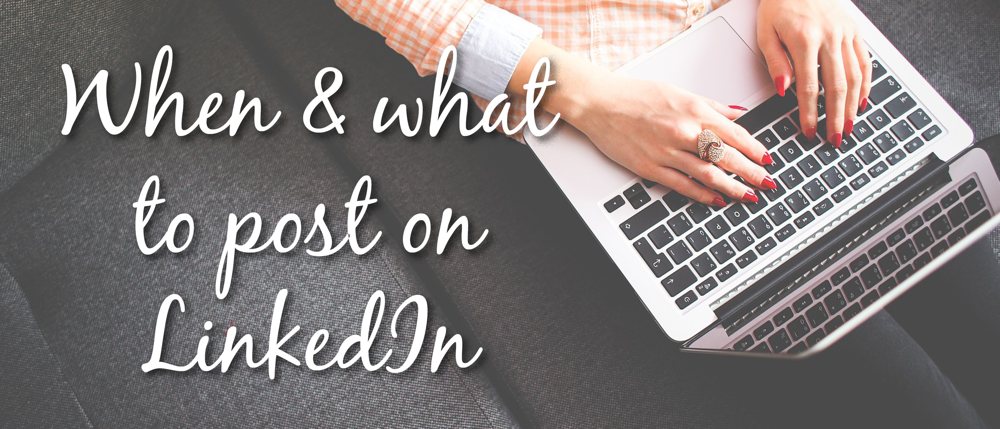 Do you post on LinkedIn?  Millions of people have a LinkedIn profile and know that they could be actively using it as a social media channel, but they don't always know how to.  Clients often ask us 'What should I be posting on LinkedIn and how often?'
The answer is the same for all social media channels – you should be posting content of interest to your audience, as often as you think they will be interested. 
Here are some of our top tips for LinkedIn success:
Define your audience.  Who do you wish to talk to and why?  What do they already know about you, and what do you want them to know?  This will allow you to build a picture of the kind of people you are communicating with and what they might be interested in.
Decide on your message.  Now you know what they might be interested in, decide what you want to share with them.  This could be a mixture of information about your industry as well as your business, or hints and tips that position you as a market leader, or help address the challenges they are facing every day.
Plan your content.  Using a scheduling tool like Hootsuite can help to create a bedrock of regular content.  Use this to write posts that address the key messages you are trying to convey. 
Don't forget to interact.  Log in to your LinkedIn profile regularly and review your Home feed.  Interact with others who have posted similar content, or questions that lead directly to your content.  Don't miss opportunities to build relationships online and communicate your key messages.
Review and improve.  Look at which of your posts get the highest interaction.  Is there a theme about what your audience appear to be most interested in?  People are often concerned about sharing personal opinions or information online, but done in the right way these types of posts can create the highest interaction.  However sales messages can have a valid place as well, if delivered at the right time and in the right way.
If the whole of LinkedIn is still a mystery to you then let our social media VAs Angela and Jenny unlock its potential for you and your business. 
---
From completing your LinkedIn profile to running an entire prospecting campaign and scheduling content, outsourcing to us can allow you to get back to what you do best – running your business. 
Please get in touch on 01483 332220 or email us at office@getaheadva.com to find out how we can help. 
We pride ourselves on being the staff you don't see, but the difference you do.
Find out more about our services or call 01483 332 220 to discuss in more detail.
---
---