Get Ahead franchisees choose their own hours – what does this mean and why does it matter?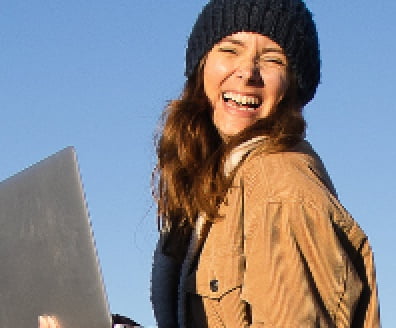 What does "choose your own hours" look like for a Get Ahead franchisee?
All the support and none of the targets
Get Ahead's regional directors have the freedom to work as much or as little as they like. This because, unlike other franchises, they are not given targets.
When Rebecca Newenham first founded Get Ahead, she wanted it to be flexible so that regional directors and team members could have work life balance the freedom to adjust their priorities if needed. That is why she doesn't set targets – she just gives loads of support instead, exactly the right kind of motivation for the business to grow.
A scalable business model
One of the reasons Get Ahead regional directors can work flexibly is that the work is scalable. Each RD is a team manager for their local team of virtual experts. The virtual experts deliver the work for the clients, whether that's social media management, admin, marketing or something else.
The franchisee does not need to deliver work themselves – instead, they can spend their time connecting clients with team members or building their networks. They can push themselves and become a local business support hub, accepting every job because they know they can outsource it to the team. Or they can limit their client base, maybe to manage their own workload or because there's something happening at home which has to take priority.
What could choosing your own hours mean for you?
The best of both worlds
Choosing your own hours means the best of both worlds. You can lead your team and run a thriving business, working for yourself but not by yourself. But you can also have a happy family life, with the flexibility for hobbies and lunch dates. Our franchisees find ill partners and school snow days less stressful to deal with too!
Work life balance
When work and life are truly balanced, they should each be important and each fulfil you. A true balance is difficult to find, but we believe our flexible model comes very close.
A healthy attitude to work
Bags of stress and fifty-hour weeks are bad for us. So is measuring our worth only by how hard we work. Fortunately, choosing your own hours means you can nurture a healthier attitude. You'll have time to exercise both body and mind. You'll have time to spend with the people who bring out the best in you. You'll have time to be a hand-on parent instead of being the one who's always late for school pick up.
With more balance and less stress in your life, you should be able to keep things in proportion. We've seen this translate into working more effectively, and having fewer parental meltdowns too.
Become a Get Ahead franchisee
Rebecca founded Get Ahead to provide flexible support for business owners…and flexible opportunities for team managers like you. If you're looking for a better work/life balance, we could be your next career move. Contact Rebecca to find out more.
Find out more about our services or call 01483 332 220 to discuss in more detail.
---
---