10 unusual ideas for a wedding businesses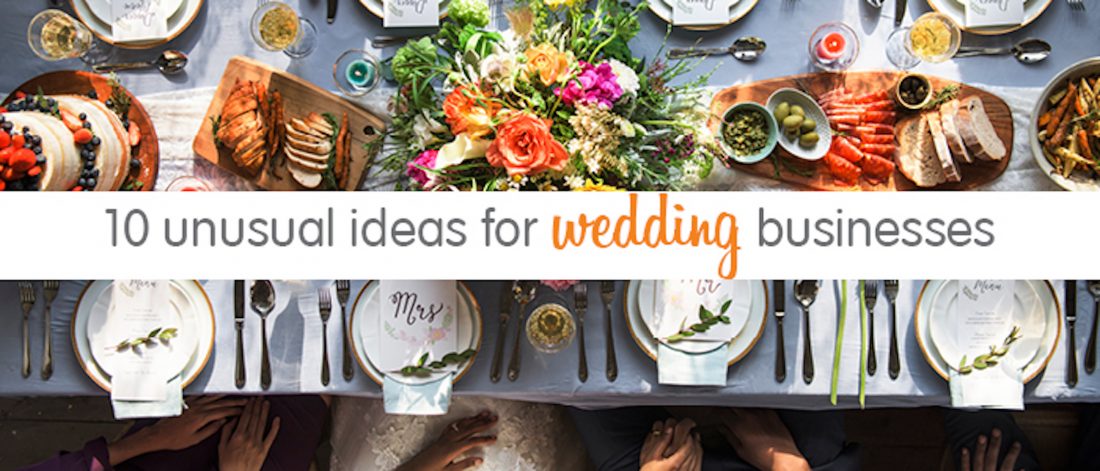 There's been no escaping the royal wedding recently, but whether you love the royals or not, there's no question that weddings are big business. Research by wedding website hitched.co.uk has revealed that weddings are worth more than £10 billion per year to the UK economy, with the average wedding costing around £36,000.
But the wedding industry, though huge, can be notoriously difficult to break into – especially the more popular fields such as events planning, catering and floristry. So how can you make a mark in a world overwhelmed by weddings?
If you're interested in starting a wedding business or expanding your current offering, here are 10 unusual ideas for breaking into the wedding market.
Calligrapher
From invitations to place cards, gift tags to menus, there are all sorts of ways you can sell your calligraphy skills to the wedding market. Make sure you provide potential clients with plenty of samples so they can choose the style that best suits them.
Dance teacher
For many couples, the first dance can be a thing of dread, so if you're a professional dance teacher then why not tutor nervous couples to wow their guests with their footwork? Even better, you could work with larger groups and choreograph wedding-day flash mobs too!
Vow writer
So many brides and grooms struggle over their vows, and as a professional writer you can help them turn their thoughts into beautiful words. Be sure to work closely with your client to create a perfectly personalised speech.
Professional bridesmaid
Being a bridesmaid can be hard work – there's the hen do to organise, clothes and flowers to collect, and guests to seat on the big day. A professional bridesmaid offers all of these services for a fee, taking the strain off friends and family, and making sure the wedding runs smoothly.
Slideshow creator
A slideshow can be the perfect complement to after-dinner speeches, and this offers a great business opportunity for computer whizzes with an eye for design. You can create slideshows that showcase the happy couple's love story, complete with photos, music and messages from loved ones.
Furniture rental
When the venue can't provide the style of furniture envisioned by the bride and groom – e.g. matching chairs, banquet tables or rustic benches – many couples choose to hire their furniture separately. For those with the knowhow, renting out wedding furniture can be a lucrative business.
Live painter
In a world of quick snaps, more and more couples are turning to painting as an intimate way to capture a memory of their special day as it happens. Not only can a painter create a timeless keepsake of the wedding, they can provide live entertainment to the guests too!
Pet attendant
So many people want their pets to be there for their wedding but few have the time to properly look after them on the day. A pet attendant can keep the couple's furry friends fed, watered and behaving well so everybody can enjoy the wedding.
Honeymoon planner
In all the frenzy of planning the wedding, the honeymoon can often get sidelined, so if you're a pro at organising holidays then why not expand into honeymoon planning? You can arrange everything from travel to accommodation to entertainment so all the bride and groom need to do is relax.
Name changer
It can be a complicated process for someone to change their name after their wedding, and many people will pay a professional to take the paperwork off their hands. This is a great business idea if you're savvy with the laws around name changing and love a bit of admin!
---
Not sure where to begin with promoting your new wedding business? At Get Ahead VA, our virtual assistants can help with everything from website design to email marketing, so you can spread the word. Please give us a call on 01483 332220 or email us at office@getaheadva.com. We pride ourselves on being the staff you don't see, but the difference you do.
Find out more about our services or call 01483 332 220 to discuss in more detail.
---
---