Continuing professional development for business owners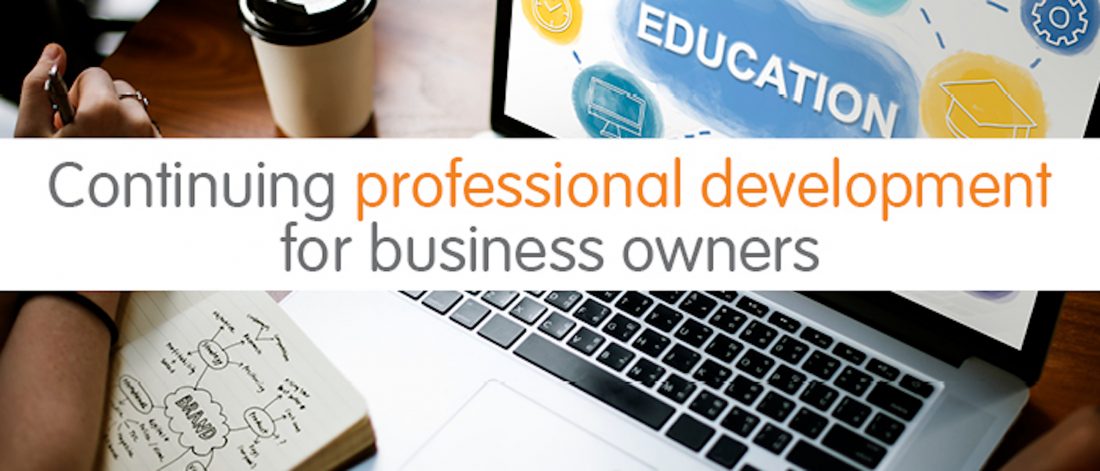 We all know how important it is to keep growing and improving at work, and continuing professional development (CPD) is a useful way to document this progress and allow you to reflect on your growth. But when you're a business owner, CPD can too easily be pushed aside in favour of the day-to-day running of your business.
This shouldn't be the case: CPD is an investment, both in your business and yourself. Fortunately, Learn at Work Week (14th–20th May 2018) is here to remind us just how important CPD is for every business, and all organisations are invited to take part.
If you're a business owner and you're unsure how to make time for CPD in your working life, here are some simple ideas to get you started.
Follow the news
Whatever your area of expertise, it's likely that it will be changing all the time – new technologies will be developed or new laws introduced – and as a professional it's important that you keep up. There are so many ways to do this: you can set up Google alerts for a relevant keyword (e.g. "grammar" if you're a proofreader) so that news items featuring that word will be emailed to you, or you can subscribe to industry-specific magazines and newsletters, and add relevant websites to your RSS feed so all your updates appear in one place. The key is to make it as easy as possible for you to read the latest news.
Find experts
The internet is crammed with experts writing about their experiences and sharing their professional advice, and you're guaranteed to find someone doing this in your field. Seek out a few high-quality podcasts and blogs by people who are doing the same work as you and subscribe to them, then set aside time each week or month to take them in. For shorter, more digestible updates, follow the same people on social media, such as Facebook and Twitter.
Attend training courses
If you need more of an external structure for your CPD, training courses can be a great help. You can look for courses that will cover the areas you know you're weaker in, or you could attend more general refresher courses. Whatever you choose, you don't have to make a huge time investment; a day-long course or a short online program can be a real boost for your business. Of course, you should research before you sign up to anything to make sure it's worth your time and money, so check the reviews for any course beforehand.
Go to conferences
Conferences also count towards your CPD. Often there are talks you can attend that will broaden your knowledge, but they're also a great opportunity to improve your networking skills and talk to other professionals in your field. It's a win–win situation: you can learn industry news and pick up recommendations from the people you talk to, while also making connections with like-minded professionals who might be able to help your business in the future.
Make time
The key part of all CPD is to make time for it, and that means scheduling in a block of time like you would for any other job. That could be anything from 10 minutes every morning to read your RSS feed, to a full day to attend a course or conference. It's also crucial to spend some time reflecting on what you've learned. Are there any gaps in your knowledge you need to fill? Do you disagree with anything you've read? If so, why? By asking yourself questions and thinking critically about your CPD, you, and your business, will gain so much more.
---
If you need someone to handle those day-to-day distractions while you're working on your CPD, we can help. At Get Ahead VA, our virtual assistants can assist with everything from admin to call handling to bookkeeping, giving you time to focus on the more important stuff. Please give us a call on 01483 332220 or email us at office@getaheadva.com. We pride ourselves on being the staff you don't see, but the difference you do.
Find out more about our services or call 01483 332 220 to discuss in more detail.
---
---