Buy a franchise with an award-winning business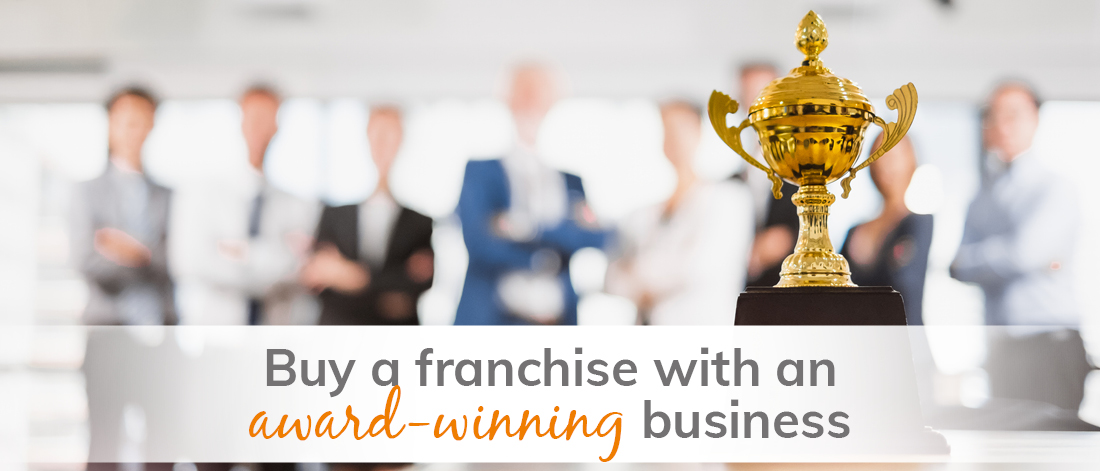 When you're comparing franchises, exploring your options, researching and carrying out due diligence, you might notice that the business you're considering has won awards. At Get Ahead, we believe winning awards add value and reflects well on the business. Over the last eleven years, we're proud to say we have won quite a few! Of course, we're delighted to have our hard work recognised, but we also believe it's helped us attract high calibre franchisees to take the brand to the next level.
Get Ahead – an award-winning business
Since 2016, we've won a number of awards, including ones from:
· The British Franchise Association
· The Great British Franchise Awards
· SME News
· Women in Business
· Theo Paphitis' Small Business Sunday
· SME Surrey Business Awards
What do awards mean for businesses?
It's easy to say we're great at what we do, but that's just our opinion! When we have our hard work recognised by an independent body, we feel like all the energy we have put into the business has been worthwhile. When one franchise is compared with another, it's feels great to be chosen as the winner.
Now we've won the awards, we have earned the right to use their logos on our marketing and communications. This gives Get Ahead a professionalism and authority that attracts the right clients and also the right franchisees.
Why should you buy into an award-winning franchise?
When you choose to join a franchise which has already won awards, you know you're signing up to a successful business – success that's independently verified. This tells you that the franchise has the power to move your career in the right direction. Awards show a high standard across the board, achieved by a strong ethos throughout the business and the outstanding calibre of its team members. With everyone working hard, success becomes the norm – a great culture for any business.
Some of our awards have been won by the whole business, others by owner Rebecca Newenham, and even by individual franchisees. And if you decide to join Get Ahead, you could benefit from these awards and might even win one yourself!
Get Ahead's string of awards helps us attract the right clients. When a potential client is deciding whether to outsource to us, the awards might influence their decision to use Get Ahead. The awards show that the work will be carried out to a high standard; equally, the awards will discourage the wrong kind of client. And because all our clients are serious about working with us, the work our virtual experts deliver is usually successful and helps to grow Get Ahead's business.
Buy a Get Ahead franchise
We can't believe how far we've come since we established in 2010. We are very proud of our achievements and love sharing them with our franchisees. If you're researching franchises, it's a
good idea to look at the business' achievements because when you join a successful business, it's much easier to run a successful franchise.
If a Get Ahead franchise appeals to you, get in touch today. And if you're still doing your research, that's great too – take some time to explore our website and jot down any questions. You can contact us on 01483 332 220 – we'd love to hear from you.
---
---