Achieve work–life balance as a Get Ahead VA Regional Director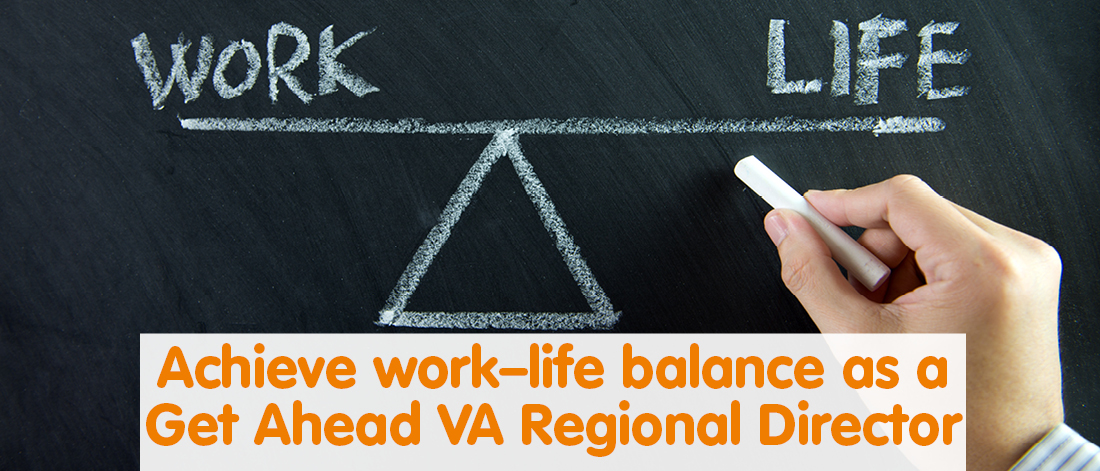 This week (7th to 11th October) is National Work Life Week, a campaign dedicated to understanding workplace well-being and work–life balance. The week is organised by Working Families, and it aims to encourage "healthy and sustainable ways of working".
Here at Get Ahead VA, we give all our team members the freedom and flexibility to manage their own time, which is so important for achieving a good work–life balance. In fact, this flexibility is one of the main reasons that most of our Regional Directors – who run the local branches of Get Ahead VA all over the country – decided to join the Get Ahead family.
To celebrate National Work Life Week, we're sharing some of the ways in which becoming a Get Ahead Regional Director can help you to achieve a healthy work–life balance.
Make time for family
One of the biggest draws of becoming a Get Ahead VA RD is the ability to fit work around family life. "The flexibility for me to work from home and still be able to do the school run is really valuable," says Fiona, RD of Get Ahead Leeds. Indeed, many of our RDs build their working day around their family's timetable – whether it's going to lunchtime networking meetings when the kids are at school, or taking a mid-afternoon break to ask them about their day when they get home.
Work from home
Most of our RDs are home based, and this provides day-to-day flexibility. Without a commute, there's more time to stay on top of the household chores or make time for exercise, and there's much more freedom to book trips or appointments during the week. Karen and Allison, co-RDs of Get Ahead Newcastle, particularly appreciate this aspect of home working: "You can have a hair appointment mid-week, or go away for the day if you need to – it's so much easier than trying to cram everything into the weekend."
Be part of a team
Thankfully, working from home doesn't mean working alone. Two of our regional branches are run in partnership: Karen and Allison manage Get Ahead Newcastle, and Suzanne and Kristy have recently opened the Berkshire and North Hampshire branch. "We each know how the other person works and we complement each other," says Suzanne, "so that allows us to maximise the time we have for strategy and delivery."
There's also the rest of the Get Ahead VA team, and the company's founder, Rebecca, who is always at the end of the phone for a chat. Plus, a few times a year, Get Ahead organises events for the RDs and VAs to get together in person, so nobody ever feels out of the loop.
---
Becoming a Get Ahead VA Regional Director can be hugely rewarding, especially if you're looking for a career that will fit around your personal life – not the other way around. We're always happy to talk to people who are interested in opening a branch of Get Ahead VA in their area, so if you'd like to know more, visit our website or contact Rebecca Newenham on (01483) 332220.
---
---