5 top tips on managing the summer holidays!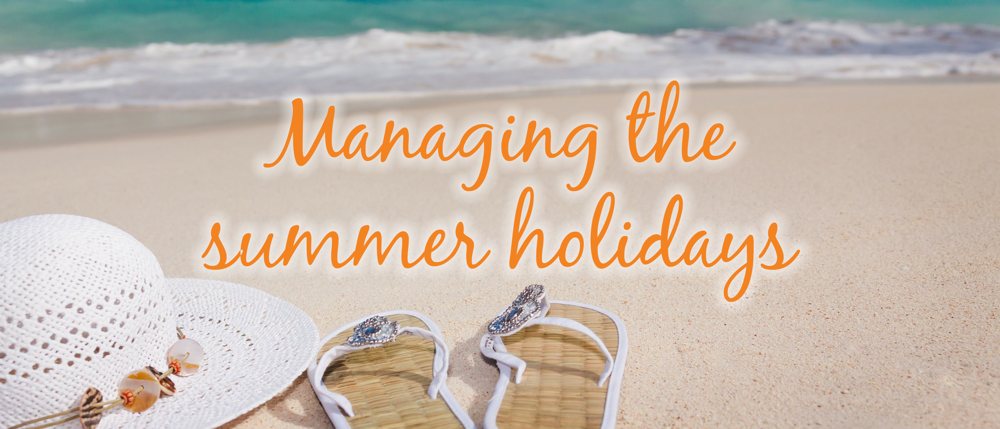 For many working parents this Friday is a critical day as it marks the start of the school holidays.  Some parents will be looking forward to taking time off work and spending it with their children, whilst others may be busy organising summer camps and childcare. 
Particularly for those who are self-employed or small business owners, managing the summer holidays can be a real juggling act.  Your business and your clients depend on you, yet your family need you too.  
Here are our top tips to strike the right balance and look after your business as well as spend time with your family this year:
Plan ahead.  Even now, there are still a few days to go so take a few minutes to sit down and think about the next six to seven weeks.  What is absolutely critical and has to be done, and what can wait until September?  Be tough on yourself and your business to ensure you prioritise the right things.
Evaluate the critical list – are the things on this list tasks that you could do at evenings or weekends?  Are they things you can yourself, or do you need to get support in from elsewhere to manage them?
Remember you need a break too.  Just as your children need a break from learning, so do you need a break from working.  Though it might feel like a luxury you can't afford to take, your business will genuinely benefit more from a relaxed and refreshed you.  Taking a step away from the day to day running of your business can allow you to return ready to make the last four months of the year your most successful yet.
Don't be afraid to change the plan. If something urgent comes in then make time to deal with it so that you can return to your break.  Equally, if things are actually quieter than you expected then make the most of it whilst you can.  Generally, those who are self-employed can be flexible to allow them to take advantage of opportunities when and where they arise. 
Don't be afraid to ask for help!  If you worry about leaving your business and feel like you won't be able to switch off then why not use a telephone answering service who can answer your calls for you, or holiday cover to manage your emails etc.  Then you can be brave and switch the laptop off – safe in the knowledge that a professional team are handling things for you until your return. 
---
Our experienced VAs can provide holiday cover for your business – from telephone answering to inbox management and more. 
We love to take on the tasks you don't have time to do, don't have the skills to do or simply don't want to do. 
Please get in touch on 01483 332220 or email us at office@getaheadva.com to find out how we can help.  We pride ourselves on being the staff you don't see, but the difference you do.  
Find out more about our services or call 01483 332 220 to discuss in more detail.
---
---