Service Spotlight: Administration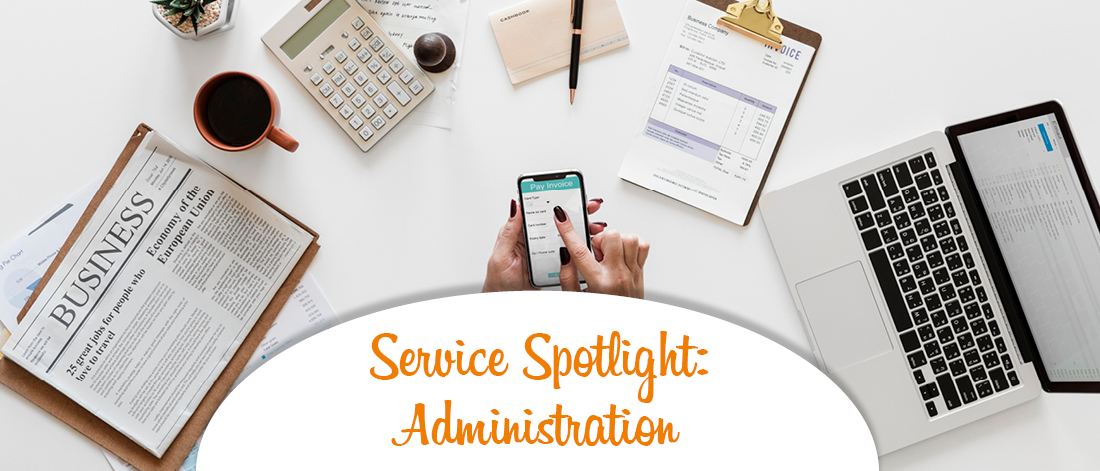 Get Ahead VA offers a wide range of business and marketing services. In our Service Spotlight, we take a closer look at one of these and show you how our virtual assistants can help you and your business. This month, with the aim of getting organised for the new year, we're looking at administration.
What is administration?
Administration is everything to do with the day-to-day running of your business. It's the smaller jobs that keep your business organised and ticking over, as opposed to big, important project work. Think emails, phone calls, arranging your calendar and typing up minutes from meetings – the sort of work a PA might do.
Administration can be 'love it or hate it' work. Some people like nothing more than to take a break from a long, involved project to do some filing or send out a few invoices. For others, admin is nothing but a time-consuming nuisance, distracting them from more important things. If you're in the latter group, don't worry – hiring a virtual assistant to take the admin off your hands could be the answer!
What do we offer?
Get Ahead VA offers skilled, experienced virtual assistants – remote workers who you can hire on an ad hoc basis to take over the admin jobs you don't want to do. If you decide to work with us, we'll team you up with a professional virtual assistant, who will do the work remotely and provide regular updates so you're never out of the loop.
Here are the admin services we offer:
Research
Transcription
Minute-writing and -publishing
Telephone handling
Emailing and posting
Proofreading and editing
Managing orders and enquiries
Creating PowerPoint presentations
Preparing proposals and contracts
The beauty of a virtual assistant is that they are flexible workers who you can hire as and when you need them. So, if you think you need organisational help little and often, we can help with that. Or you can bring a virtual assistant in seasonally (e.g. at the end of the financial year) to deal with a sudden surge of admin.
How will this benefit you?
Of course, the biggest advantage to outsourcing your admin work is how much time you'll save. Without those time-consuming everyday tasks to distract you, you'll be able to get on with the work you enjoy most and that your skills are best suited for.
It's also a great way to ensure that your admin jobs actually get done. If you don't like replying to emails or sending out invoices then these jobs can easily slip to the bottom of your to-do list and cause you anxiety and frustration. Bringing on a virtual assistant guarantees that these jobs will get done – in a timely, professional manner – and it'll free up your mental energy, knowing that the day-to-day running of your business is in good hands.
Still not sure if admin assistance is right for you? Check out what one of our previous clients had to say:
"When you run a fast-paced creative business you sometimes need admin support for short periods only. Committing to long-term external support isn't always the best solution or what is required … [With Get Ahead VA,] it feels like I'm moving forward with trusted people at my side." — Sam Farrow, Farrow Creative.
---
Want to find out more about our administration services? We'd love to talk with you and find out exactly how we can help, so please give Get Ahead VA a call on 01483 332220 or email us at office@getaheadva.com. We pride ourselves on being the staff you don't see, but the difference you do.
Find out more about our services or call 01483 332 220 to discuss in more detail.
---
---