Make the most of your walk to work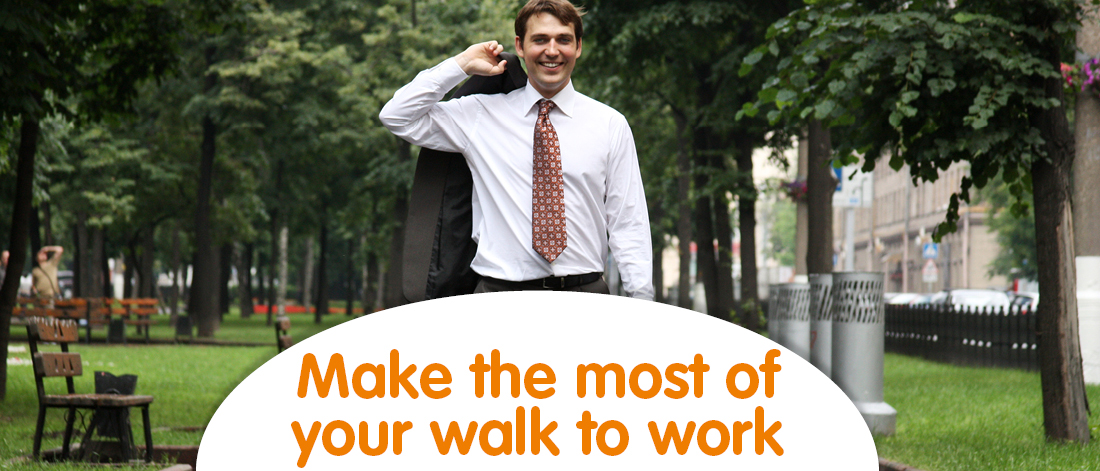 Did you know that the first Friday in April is National Walk to Work Day? This is a day which encourages anybody who can to leave their car at home, skip the bus and go to work on foot instead. The day is designed to raise awareness about the often sedentary nature of modern working life, and encourage everybody to adopt a healthy new habit.
Walking by itself is hugely beneficial, but there are also things you can do to be productive while you're pounding the pavement. So if you're thinking of trying it out, here are some of our tips for making the most of your walk to work.
Listen to something
The easiest way to occupy yourself while you walk is to pop on some headphones and listen to something fascinating. Podcasts and audiobooks are a great way to keep up with current events, build your knowledge about your industry or learn something new while you're on the move. On the other hand, you could listen to your favourite upbeat music to get your mind working and pep you up for the coming day.
Play with ideas
Research from Stanford University* has found that walking can actually boost creativity, so why not use your walking time to think through any problems you might be facing at work? You might find that the simple act of walking helps you to come up with new ideas that you wouldn't have thought of in the car. Of course, if you're going to use your walk as thinking time, you should take along a voice recorder or download a recording app to your phone – that way you can make a note of your ideas as soon as inspiration strikes.
Practice a presentation
If you have a speech or presentation coming up, the walk to work is the perfect time to practice it. Rehearse out loud as you walk (or under your breath if you're embarrassed!) and have a list of prompts in your pocket that you can quickly check if you need to. Plus, if you can choose a route that will take roughly as long as your presentation is meant to last, this will help you to practice your timing too.
Just walk
Of course, you don't have to be productive every minute of every day, and the walk to work is a great opportunity to switch off all the distractions and just… walk. Put your phone in your bag, don't listen to anything, and take a little time to soak up your surroundings and not think about your responsibilities. There will be plenty of time for those when you arrive at work. Until then, just enjoy the walk.
---
Do you need some extra help to manage your workload? A virtual assistant can take on any job you don't have the time or the skills for, freeing you up to get on with the really important stuff. Get Ahead VA has a team of virtual assistants, ready to help with any aspect of your business, so to find out more please give us a call on 01483 332220 or email us at office@getaheadva.com. We pride ourselves on being the staff you don't see, but the difference you do.
* https://www.apa.org/pubs/journals/releases/xlm-a0036577.pdf
Find out more about our services or call 01483 332 220 to discuss in more detail.
---
---