Celebrate Christmas with your team – the Get Ahead VA way!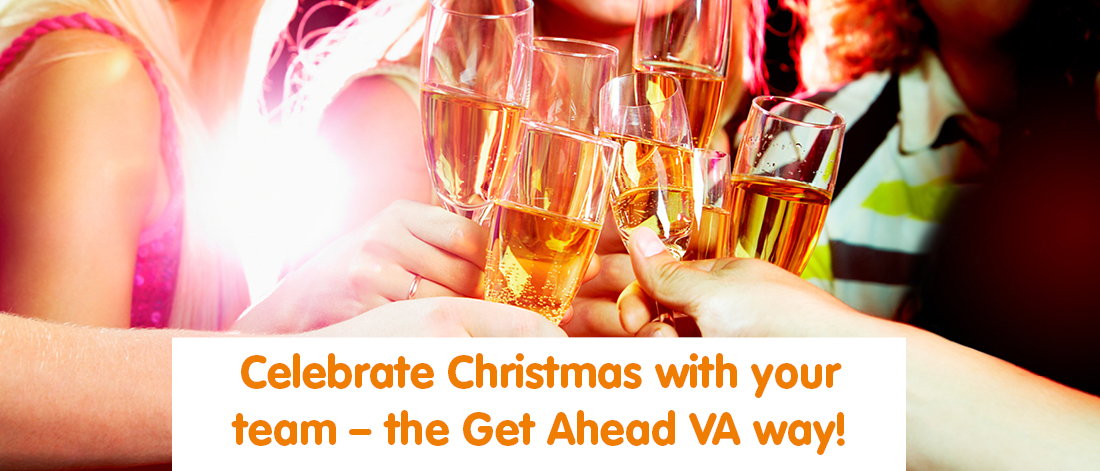 How will you be celebrating Christmas with your team this year? If you usually organise a party or a meal for your employees, you might be wondering how to mark the end of the year in a pandemic-friendly way – and you may be lamenting the loss of the traditional Christmas party this year.
But don't worry! The Get Ahead VA team is almost entirely made up of remote workers based all over the country, and we've been celebrating Christmas together since the business began. Today we have some tips to help you celebrate with your team, even though you can't be together in person.
1. Send Christmas cards
Everybody loves to receive a Christmas card, and sending out cards is one of the easiest and most affordable ways to mark the occasion and let all your employees know that you're thinking of them. Even better, include a small gift, such as some chocolates or a gift voucher, to make it really special.
2. Check in via video call
Things can get stressful in the lead-up to Christmas, as deadlines loom and people start to take time off, so make sure you check in regularly with your team via video call. We recommend an informal weekly call, where people can ask questions, air any problems and just have a friendly chat that will make everyone feel more connected.
3. Christmas jumper day
Get Ahead VA has been having dedicated Christmas jumper days for years! We love to share photos of all our team members in their festive finest, and it helps everyone to feel like part of the team, even when we're hundreds of miles apart. You could share your Christmas snaps on social media, or just share them with your team.
4. Throw a virtual Christmas party
Most of us have turned to technology to help us socialise this year – and your Christmas party can go virtual too. It doesn't have to be just another conference call; there are all sorts of companies out there offering creative ways to meet up and hang out online. For example, you can book your team onto a virtual murder mystery or escape room, an online wine tasting, or a fully hosted Zoom party complete with food and games. We recommend setting up a poll so your team can choose their favourite.
5. Put it on hold
Ultimately, the simplest solution may be just to wait. Depending on where you are in the country, and your local restrictions, you may have more options for in-person celebrations in the new year. Many companies, Get Ahead VA included, throw their Christmas parties in January, when everybody has more time and prices are more affordable. So if you put your festive plans on hold for now, you may be able to celebrate more comfortably in 2021.
Would you like to be part of Get Ahead VA's Christmas celebrations next year? Then come and join our team! We're always on the lookout for ambitious, entrepreneurial people who are interested in opening a new branch of Get Ahead VA in their local area. If this sounds like you, check out our franchise website for more information.
Find out more about our services or call 01483 332 220 to discuss in more detail.
---
---