10 pivotal moments in the Get Ahead VA story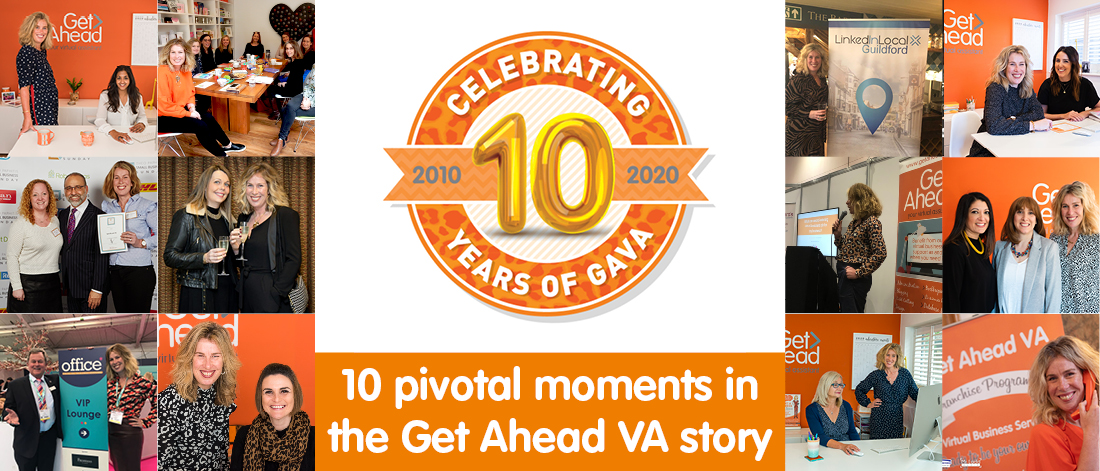 This week, as part of our ongoing celebrations for Get Ahead VA's 10th business birthday, we're digging into the archives and looking back at some of our most significant milestones over the years. A lot has happened in the last decade, and these are just a few of the highlights that have carried Get Ahead VA from its earliest beginnings to where we are now.
1. Our founding
Get Ahead VA was founded in 2010 by Rebecca Newenham, a successful Guildford-based businesswoman who wanted to find a more flexible way of working to fit around her family, while still delivering high-quality business support to her clients. This is the ethos Get Ahead VA was built on, and it is still at the heart of how we operate today.
2. Our first client
Get Ahead VA's first client was an all-women networking group, which Rebecca was recommended to by her friend Lucinda Taylor, a fellow mum from school. Lucinda understood the idea behind Get Ahead VA and was keen to help; through her introduction, Rebecca met lots of potential clients, which goes to show just how important referrals can be.
3. Our first team member
The first person to join the Get Ahead VA team was Desiree Leedo. She joined as our first virtual assistant, and she has since moved to the USA and started her own business. We're delighted to have been part of her entrepreneurial journey!
4. Our first business expo
Business expos and networking events have become a big part of how Get Ahead VA finds new people to work with. Our first expo was in Guildford, and we loved setting up shop and putting our business out there for the first time.
5. Our first award
The first award we won was Flexible Business of the Year at the National Business Awards in 2014. The award celebrated the core of Get Ahead VA's business strategy: the ability to deliver fantastic business support in a way that is flexible and family friendly for everyone involved.
6. Our first speaking opportunity
Get Ahead VA's first speaking opportunity was part of the Office Show at Olympia in 2015. This was an amazing opportunity for us to share our work and our business ethos with other professionals in the field.
7. Our franchise
We launched the Get Ahead VA franchise in 2017, and since then we have opened a number of branches around the UK, each run by a talented, entrepreneurial Regional Director. This has been a vital part of Get Ahead VA's success and we're so pleased to be able to support business owners all over the country.
8. Our 100th client
Get Ahead VA has now worked with more than 100 clients, ranging from will writers to window cleaners, financial consultants to fashion designers. Working with such a wide range of people means that no two days are the same and we're always excited for what we'll do next!
9. Our 10th year
2020 is Get Ahead VA's 10th year in business, and we're stronger than ever. Rebecca is still operating out of our head office in Guildford, and our regional offices mean that we can now reach many more clients. Rebecca says, "I am so proud of everything that we have achieved over the past 10 years. SMEs are the lifeblood of the UK economy and we are so proud to support them."
10. Our next achievement
We are very excited to see what will come next in the Get Ahead VA story. At the moment we are on the verge of appointing our 10th franchisee, so that could well be the next big landmark – but whatever it is, we're proud of how far we've come and we're grateful for our excellent team and the people who have supported us along the way. Here's to the next 10 years!
---
Could your business use professional support from an experienced team of virtual assistants? Get Ahead VA offers services from accounting to copywriting to social media marketing, so to find out more about how we can help you, get in touch today on 01483 332 230 or email office@getaheadva.com.
---
---