Teamwork – successful franchisees get out what they put in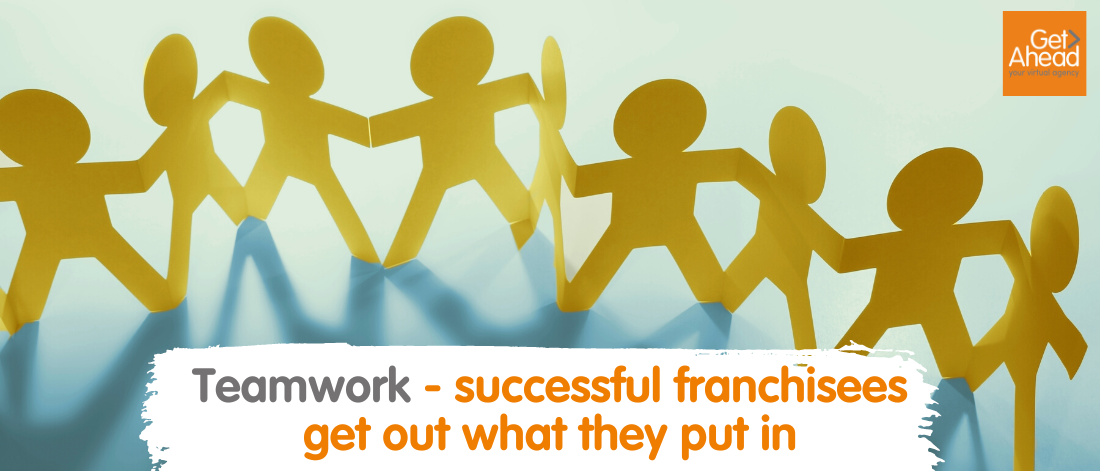 If you're researching franchises and considering Get Ahead, you might have noticed that we're a really supportive team. Helping each other out and not competing for clients is an important characteristic of a Get Ahead franchise, and one that's only possible because our franchisees pull together. At Get Ahead, you get out what you put in.
Let's take a closer look.
A brief history of Get Ahead teamwork
Before we franchised Get Ahead, there was one office in Guildford, run by Rebecca Newenham. Right from the start, Rebecca's model depended on teamwork. She would find clients and match them to virtual experts. This depended on their willingness to join her team, work alongside other home-based professionals to deliver a whole project and act as ambassadors for the Get Ahead brand. Creating a strong team culture enabled Rebecca to offer a high standard of work to Get Ahead clients.
Fast forward to the present day, and the strong team culture still exists. Rebecca no longer heads up a regional office, but the culture she created continues. This is because it's a key part of Get Ahead's success – we can deliver great work because "no one can do everything but everyone can do something."
How the teamwork model applies to franchisees
Something that sets us apart from other franchises is our supportive culture. What began as teamwork among our virtual experts has translated into teamwork among regional directors (franchisees) too. If you want to work for yourself but not by yourself, Get Ahead could be the franchise for you.
Many of our regional directors have formed strong working relationships. This is partly because each franchise covers a specific geographical area, meaning that no two regional directors compete for the same work. It's easier to support each other when you're not in competition!
After your induction and training, you'll be invited to our regular monthly meetings for franchisees. This is a chance to share successes and best practice, and discuss marketing resources and make suggestions. We have a flat structure, giving all our franchisees a chance to make a contribution to the direction of the business.
But we hope you won't just confine yourself to these monthly meetings! Many of our regional directors have formed solid working relationships, being there for each other when there's a question or someone doesn't know which way to turn. We also provide practical support, like stepping in to run a stand at an expo or taking on a client if you can't.
Some of the regional directors have additional responsibilities, like managing the skills database for the wider team.
We also have gettings-together throughout the year, from informal training and photoshoots at Rebecca's house in Guildford to the annual Christmas party in London. Attending these events will help you consolidate your relationships with the rest of the Get Ahead team.
Find out more about becoming a Get Ahead franchisee
If you're considering buying a Get Ahead franchise, we'd love to hear from you! We know that taking on a franchise is a big decision, and we want it to be the right one. Explore our site to find out more, or book a chat with Rebecca.
---
---