How to write a company Wiki page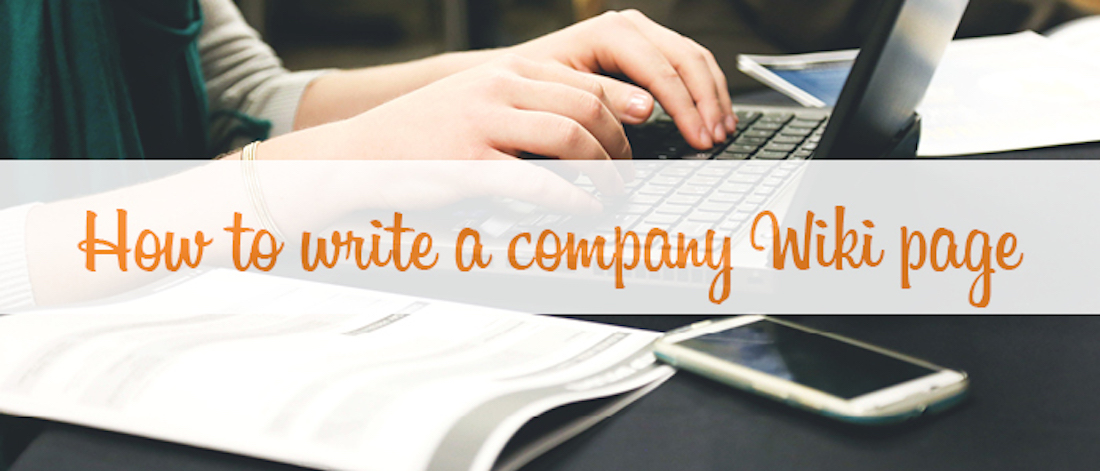 Creating a Wikipedia page for your company can be extremely useful. According to two website ranking companies, Wikipedia is the fifth most popular website in the world, so carving out a space for your company on this platform can provide a huge boost to your reputation, which can in turn push you up the search results pages and lead to an increase in customers and sales.  
However, getting a company onto Wikipedia is not straightforward. First and foremost Wikipedia is an encyclopaedia, and that means all pages must be factually accurate and reliably sourced. Wikipedia entries can also be edited by anyone, so always remember that your content will need to be approved and could be changed after you have written it.  
If you're still interested in creating a Wiki page for your company, here are the main things you should do. 
1. Check your company's notability
Wikipedia will only accept entries about particularly notable companies (e.g. those founded by someone of note, or those that are pioneering a new technology), so before you begin it's important to check whether your company is likely to make the cut. You will need to provide external sources for everything you write on the page, so linking back to your own website or blog will not be enough; the entry is much more likely to be approved if you link to mentions of your company on news websites or in books and magazines. Before you begin to write anything, do your research and compile a solid list of sources that prove your company deserves a place on Wikipedia. 
2. Get to know Wikipedia
Before you dive into creating a brand new article, it's a good idea to familiarise yourself with Wikipedia by making small edits or contributions to existing articles. Learning how to properly cite sources and write objective, factual copy will boost your reputation as a Wiki user and stand you in good stead for writing an entirely new page. If you're really unsure about how to use the site, try messaging an established Wiki editor and asking for help; they will know the ins and outs of creating a page and getting it approved. 
3. Be transparent
Whether you're writing about your own company or being paid to write a Wiki page on behalf of someone else, it's crucial that you declare your interest before you publish anything. Wikipedia's writing guidelines will give you the full details on how to do this, but essentially you must declare your interest in the company you are writing about at least once: on your user page, on the 'talk' page accompanying your article, or in the 'edit summary' of your article.  
4. Remain objective
When it comes to writing the copy for your company page, the key is to remain as objective as possible. Wikipedia is not the place for marketing copy or 'fluffy' sales language; it's a place to summarise the facts about your company and explain why it is notable. Take a look at pages for other companies to get ideas about how to structure your page, and try to include basic elements such as a brief history of the company and a summary of its products and services. Remember, everything you say must be backed up with trustworthy sources and your information should be categorised under useful subheadings. 
5. Get approval
Once your page has been written, you can move it to the public space and wait for it to be approved by Wikipedia. Alternatively, you can keep your page private and request approval for an article about your company or industry first, through the Articles for Creation page. However you choose to seek approval, remember that anything you write can be changed by other editors. If your page is approved and goes public, you should check it regularly and continue to update it with reliable sources whenever you can. 
---
If you need assistance with creating a Wiki page for your company, our virtual assistants are here to help. Please give Get Ahead VA a call on 01483 332220 or email us at office@getaheadva.com. We pride ourselves on being the staff you don't see, but the difference you do. 
Find out more about our services or call 01483 332 220 to discuss in more detail.
---
---