Would you like to run a branch of Get Ahead VA?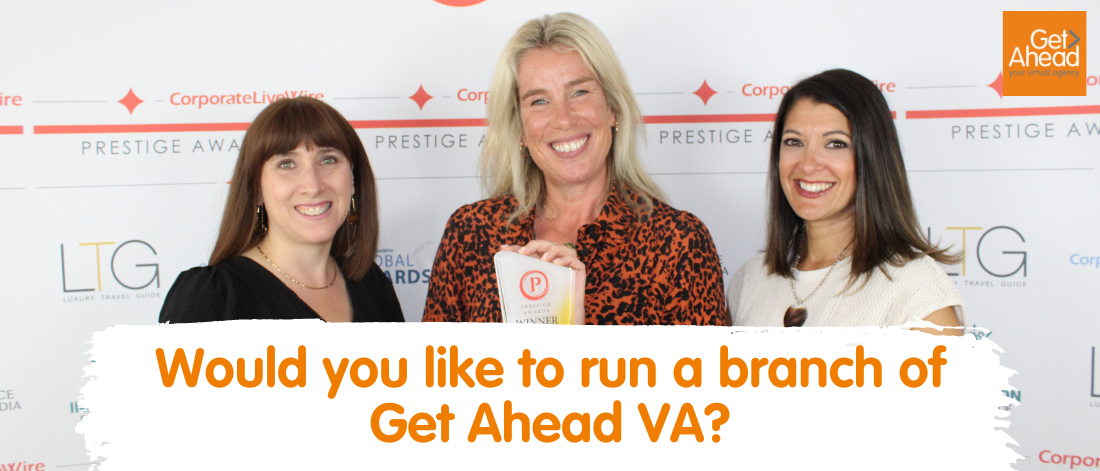 If you've always wanted to run your own business, but have been too daunted by the idea of going it alone, then becoming a Get Ahead VA regional director could be the next big move for your career.
Get Ahead VA is headquartered in Surrey, but we are proud to have branches all over the country, from Oxford to Leeds. These branches are run by regional directors, and we're always looking for driven, entrepreneurial people to become regional directors and take Get Ahead VA somewhere new. That's where you come in!
What does a regional director do?
Get Ahead VA is a virtual agency that offers all sorts of business services to our clients, from admin to marketing to social media. Having regional offices allows us to make more connections and offer a better service to local clients, so we're very keen to keep growing. By becoming a Get Ahead regional director, you will open a branch of the business in your area, and then develop a portfolio of clients. It's all about finding clients and connecting them to the right expert in our team, so that everybody ends up happy.
What do we offer?
The brilliant thing about becoming a Get Ahead regional director is that you will start your own business, but you won't do it alone. We can offer all sorts of support to get you off to a flying start, so you'll have the freedom of being your own boss, alongside the security of an established brand.
When you sign up, we will give you:
Extensive training
Detailed and easy to follow manuals
A monthly marketing toolkit
Regular check in's with Rebecca, the franchise owner
Access to our team of over 50 virtual experts to deliver the work to your client
Who are we looking for?
We welcome anybody who is interested in joining us, but the sort of person who would make a great regional director is driven, ambitious and has an entrepreneurial flare. You will be building and managing your own regional team, so experience in marketing, sales, or business development is preferred, and you should be good at networking and have excellent face-to-face B2B skills. Don't worry, you don't need to have experience as a virtual assistant or administrator to become a regional director – you match clients to the right expert in our existing team.
What do our regional managers think?
Of course, our current regional managers are the best people to tell you what it's like to open a branch of Get Ahead VA. This is what Fiona, our manager in Leeds, has to say:
"I've always wanted to run my own business, and after researching a number of options that would utilise my skills, I found Get Ahead VA. The business and the team are a perfect match for me as they deliver real results for the businesses they work with, offering a flexible approach that suits the client. The flexibility for me to work from home and still be able to do the school run is really valuable."
---
If you're interested in becoming a Get Ahead regional manager, and to find out more about our license fees, please get in touch on 01483 332220 or office@getaheadva.com. Our founder, Rebecca Newenham, would love to have a quick, informal chat to find out if this opportunity is right for you, and to potentially help you take the next step in your career.
---
---