Get the most from your franchise – offer clients more than they ask for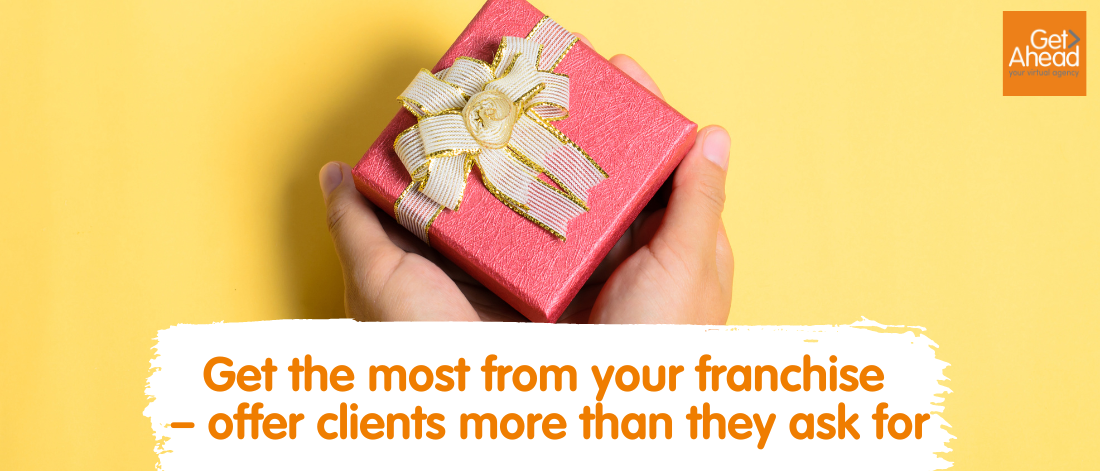 If you're looking at franchise options, you're probably at a turning point in your career. This can be an exciting time but it's important to make the right choice. That's why we're using our Get Ahead franchise blog to give you as much information as we can about what we do. We hope this will help you picture life as a Get Ahead regional director before you take the plunge.
In this blog, we look at how you can improve the service you offer by giving your clients more support than they ask for.
The Get Ahead business model
If you're new to Get Ahead, it's helpful if you understand our business model so the rest of what we say makes sense!
Our regional directors network – online and offline – to find clients who need business support. They then work with clients to understand their needs, and match them with one or more of our virtual experts who will deliver the work. This means that your business is scalable – you can take on as many clients as you like because someone else will be working on the client's payroll, social media, marketing or any other service we offer.
Improving client service
Get Ahead has a reputation for high quality work and outstanding service. We know our new franchisees are always keen to keep this reputation up, as it benefits everyone concerned.
One of the ways we can improve the service we offer to our clients is by listening to them and responding to their needs. A client may have one idea of what business support they need, but you might listen to them and spot a better solution.
For example, a client who doesn't have time for social media might come to you to ask for help creating and sharing regular posts. However, when you really start having a conversation with them, you might discover that the reason they're struggling to post consistently is because their marketing messages aren't clear. At this point, it's well worth suggesting that they take time to improve their marketing, working with one of our marketing experts to identify the key messages and how to share them with the right audience. This will form a strong foundation that will make the social media much more effective.
Sometimes, you'll find yourself creating a budget option so the client can easily keep track of outgoings. This can be a real boon for businesses with unpredictable incomes – knowing how much their business support will cost each month makes it easier for them to plan.
It's important to listen to clients and respond to their needs, be ready with other suggestions and appreciate the variety of business support we offer. Through this, we can offer a really outstanding service. This helps our clients take their businesses to the next level…and means better job satisfaction for franchisees too.
Buy a Get Ahead franchise
If you're thinking of buying a Get Ahead franchise, we'd love to hear from you. Get in touch today to book a no-obligation call with our founder, Rebecca Newenham. She'll talk to you more about what's involved. She'll also answer any of your questions so you can feel confident you're making the right decision for your career.
---
---