Should you work between Christmas and New Year?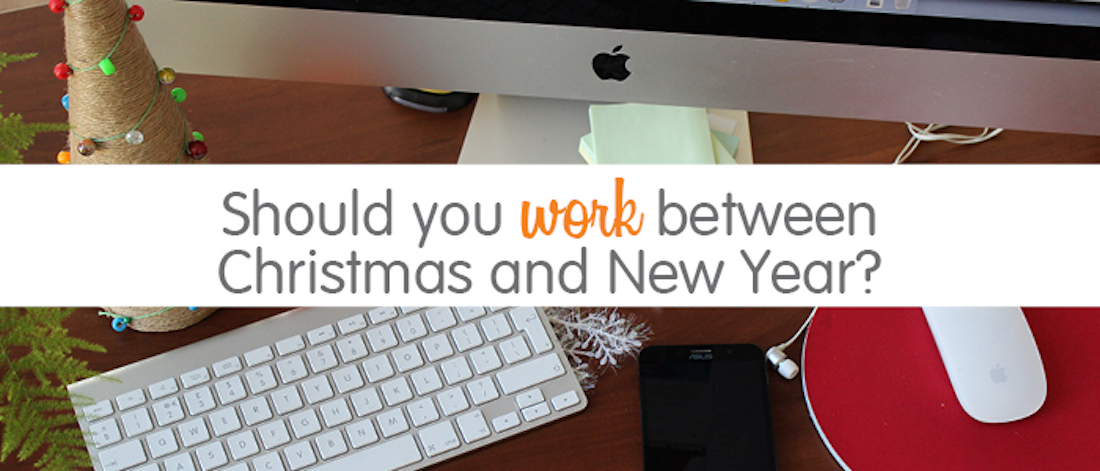 Between the indulgence of Christmas and the celebration of New Year, there's a strange week that has been given a number of names – Twixtmas, the Fallow, Romjul (meaning 'half holy' in Norwegian) – and it can often feel like limbo.
When it comes to working during this week, different businesses take different approaches. Some close down for the entirety of the festive season, while others expect their employees to be back at work as soon as the Christmas bank holidays are over.
If you're not sure whether to keep your business open for Twixtmas, here are some of the main pros and cons to help you decide.
Work, work, work!
The office is quiet, the phones are silent and there are no pressing deadlines – in many ways this is the perfect working environment, so it seems a shame to waste it. Keeping your business open between Christmas and New Year can be a great way to finish all those jobs you've put off throughout the year because of distractions or bigger demands on your attention. Now is the time to clear out your email inbox, order office supplies and tidy up the clutter on your desk; it's a chance to tie up all those loose ends so you can start fresh in the new year.
Rest and relaxation
However, if you keep your business open when there isn't enough to do, the days can really drag, especially if friends and family aren't working that week. This can lead to you and your staff feeling lethargic or unmotivated, and the peculiar half-week could end up being almost as unproductive as simply taking the time off. If you think you and your staff will struggle to find things to do to fill the days, or if part of the team is missing and the work can't be done with a skeleton crew, it's probably best to close the business until New Year.
Make the most of Twixtmas
If you do decide to keep your business open, you can avoid having nothing to do by dedicating time to planning for the new year, or by running a special offer to bring in customers during this otherwise quiet period. You could also give your staff more flexible hours during this time, so they can do their essential jobs without feeling chained to their desks.
On the other hand, if you do close your business there's no reason that the week should be a total write-off. This is a great time to kick-start the habits you want to nurture in 2018, such as eating healthily or going to the gym. Alternatively, you could give yourself some serious relaxation time; Christmas can be stressful, and taking a few days off with nothing to do might be just what you need to feel rested and ready for the new year.
---
Need a virtual assistant to keep your business ticking over during Twixtmas? Get Ahead VA offers a telephone answering service and holiday cover, so please give us a call on 01483 332220 or email us at office@getaheadva.com. We pride ourselves on being the staff you don't see, but the difference you do.
Find out more about our services or call 01483 332 220 to discuss in more detail.
---
---