What marketing support does Get Ahead give its franchisees?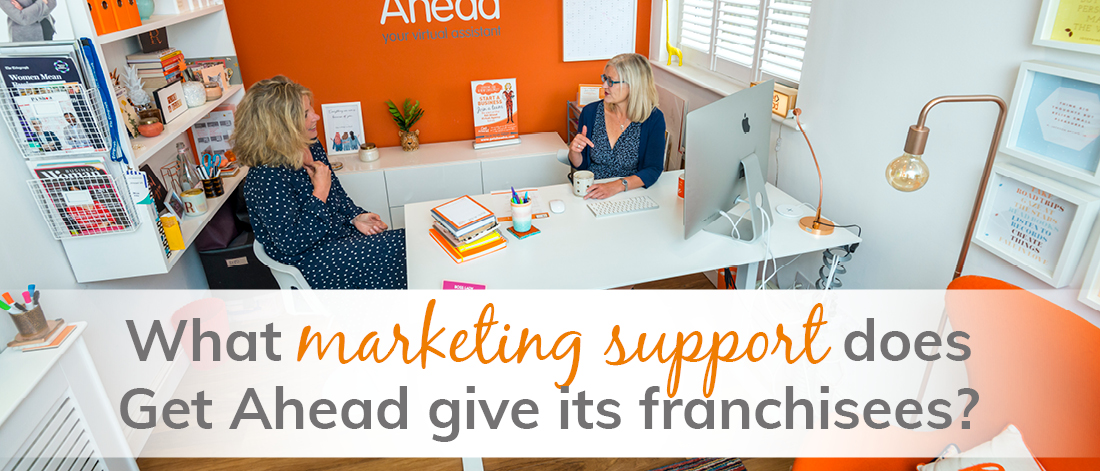 Get Ahead is growing, with new franchisees steadily joining the family. As the business expands, our new regional directors bring virtual expertise to more and more areas of the UK and beyond.
Something that sets Get Ahead apart from other franchise offerings is the amount of support we give to our regional directors. We believe you should work for yourself, but not by yourself – it's important to us that we should always be there for our RDs.
Our centralised marketing means you're never without messaging and content, and you'll always have something to share with your own local audience. We are always thrilled to see our regional directors connecting with new leads in their own way, but our central marketing support is always there to help the process along.
Here are some of the ways in which our central marketing supports our franchisees:
All the information about Get Ahead's services can be found on one central website. This website is regularly maintained by our own web experts, with content updated by our copywriters. Our graphic designers give it a professional look and our photographers provide up to date shots of home office life.
The great thing about a central website is that it's powerful against the competition. If each franchisee had to build an individual website, you might find it struggles to rank on Google. But one central website commands a lot more views, which in turn boosts its SEO.
In addition, each region has its own section on the website, enabling potential clients in your area to find relevant local services.
Get Ahead is one of the leading virtual assistant franchises. We've built up our brand over the last decade, establishing a defined look and strong messages to help us connect with the right clients.
When you join us a franchisee, you'll benefit from Get Ahead's established position. You can focus on building your local network, confident that the central team is taking care of the brand.
A central marketing strategy and monthly theme
Franchise owner Rebecca Newenham works with marketing consultants to create a monthly marketing theme. This means that each month produces a solid bank of content on a particular area of Get Ahead's work, all easily available for the franchisees to use and share. Rebecca is always delighted when franchisees contribute to the theme and content, but she also knows it's not always practical: everyone has different strengths and demands on their time.
The Get Ahead copywriters aim to produce six blogs each month. These are shared on our nationwide social media pages, and many regional directors choose to share them on their local and personal pages as well.
The blogs support the SEO of the central website, as well as providing informative content and positioning Get Ahead as outsourcing experts.
Get Ahead's blogs are all written with repurposing in mind. Most are on evergreen subjects, and can be adapted for presentations, memes and even provide ideas for a video. One blog is chosen every month to form the main theme of our regular newsletter.
Our central social media pages are regularly updated, ensuring a consistent Get Ahead presence online. This helps us retain the strong brand that attracted our regional directors in the first place.
Regional directors have their own social media channels, which they can enhance with Get Ahead's professional branding and content.
Join Get Ahead as a franchisee
One of the hardest thing about setting up a business on your own is establishing your brand and keeping on top of the marketing. But Get Ahead is different. When you join us as a franchisee, you benefit from an established brand and a wealth of marketing material to help you attract your own local clients.
If you want to work for yourself but not by yourself, Get Ahead could be the answer. If you think you could be our next franchisee, get in touch today on 01483 332 220 – we'd love to hear from you.
---
---