What are business websites used for? Create a website that delivers on your objectives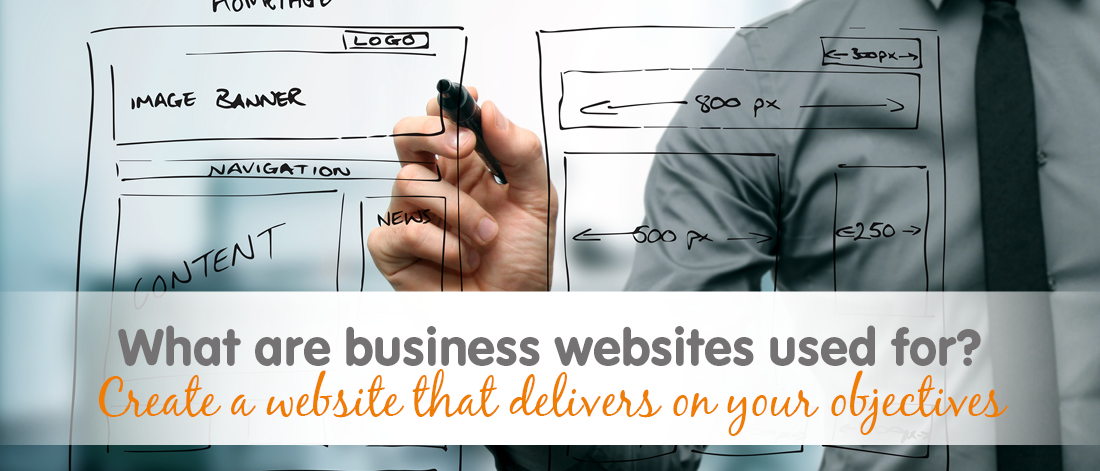 By Mark Rawson
Most businesses need a website, or so we are told. But it's not enough to simply have a website – it should deliver against your business objectives, as South Yorkshire web designer Mark Rawson explains.
How do I choose the most effective website for my business?
I believe it's important to start from your business objective. By identifying what it is you intend to achieve, you and your web developer can decide how to create the most effective website.
It's likely that one of your objectives is to grow your business, so your website should support this objective by providing whatever is needed to convert your audience to an ideal client or customer. You might have a customer service goal, in which case your website should deliver an outstanding user experience. You might be aiming to make efficiencies – perhaps some of your processes could be automated through your website, saving your team time and money.
Websites to generate leads and increase conversions
It's important to understand how your website will be used so you can leverage its power to convert new customers and clients.
Your website might be the first point of contact between business and client. In this case, it's important to highlight what it is the business does (you'd be surprised by how many business owners overlook that!), show users why they should choose your organisation and make it easy for them to do so with a clear call to action. Make it easy for your customer to convert. They won't be around for long if you don't.
Your conversion will change depending on what it is you do and what your business objective is. A conversion could be to get in touch, buy a product/service, download a brochure or simply read information on a given subject
Websites to improve customer service
It's important that great customer service is reflected in your website. Your company ethos needs to be consistent across all points of contact, whether you're meeting your customers face to face, talking on the phone or interacting online. A good way to do this is to ensure that your website is easy to use, quick and responsive. It should support a customer's instincts so users can find the information they want at ease.. FAQs, photos and videos may form a large part of the content, as well as multiple ways of getting in touch so customers can choose their preferred channel.
Websites to improve efficiency
Your website can help your business on a number of levels, and it's a great idea to get it to do some of your work for you by automating processes where possible. For example, if you're a physiotherapist, hairdresser or restaurant owner, or your business runs by appointment only, set up a bookings system on your website. This will save your customers a phone call and save you time catching up on answerphone messages.
If you sell through your website, there's an opportunity to integrate stocktaking software and have it communicate with your warehouse or existing inventory.
Website flexibility
Something I love about websites is how flexible they are. If your business needs or objectives change, you may not need to start a new website from scratch but could simply tweak what you already have.
Outsource your web design and development
We are delighted that Mark Rawson has joined the team at Get Ahead VA. His expertise in web design and development are always in demand – with his strong track record of delivering successful digital marketing projects across the public and private sectors, it's easy to see why.
If your business website needs updating, Get Ahead VA would love to help. Get in touch today on 01483 332 220 to get started.
Find out more about our services or call 01483 332 220 to discuss in more detail.
---
---