Time management for business owners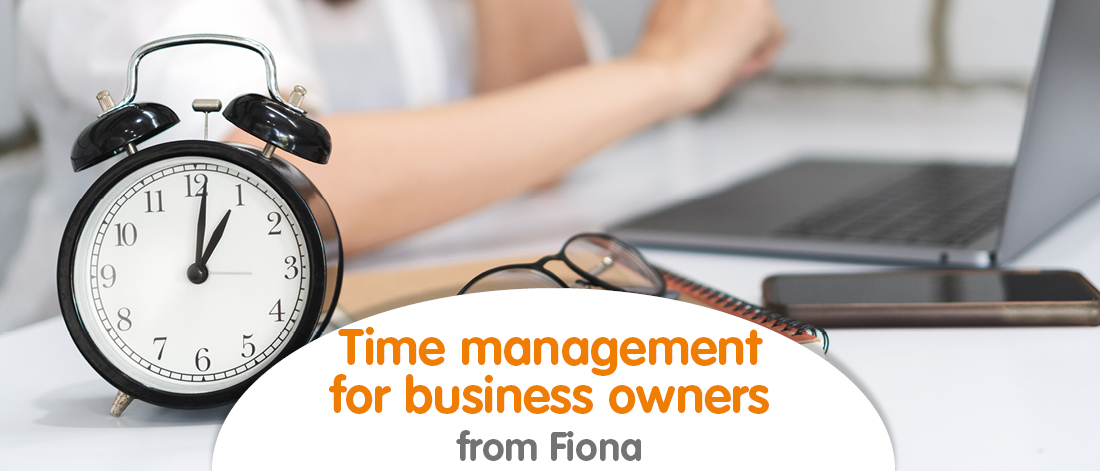 Get Ahead VA is very proud to have branches across the country, and the Regional Directors that run them are brimming with good advice about being your own boss. Today Fiona, who runs the Leeds branch, is here to share her top tips for managing your time as a business owner.
Time management is an important skill for any business owner, and I have to use it a lot as a Get Ahead VA Regional Director. That means I've learned a few things about organising my time effectively, so here's some of my best advice if you're thinking of starting up a business too.
Give yourself structure
I recommend having a rough structure for your work that you keep to every day. It doesn't have to be set in stone, but having a routine is key to getting tasks completed.
Because I have two children, I build my working day around school hours, so I usually work 8:30–5:00, and I make sure to schedule any meetings during school time. I fit my work around the school run, and I take a break when the kids come home, to chat about their day. You might build your day around family commitments, important networking events or the hours when you're at your most productive.
Make a plan
I tend to plan my work day to day, and I build my schedule around networking and client meetings. So, if I have a networking event on Tuesday morning, I'll try to add other meetings into that day (one-to-ones, lunch meetings, etc.), because I will be out of the house anyway. This usually leaves me with two or three days to work without disruptions. I recommend clustering appointments like this, because having to go to meetings every day can break your flow.
Block out time
For me, there are two main categories of work: activities (e.g. following up with clients) and admin (e.g. emails). I assign these specific blocks of time so that I can concentrate on one thing at a time. That means, if an email comes in, I'll wait until my next email slot to respond – unless it's particularly urgent.
I also block out half an hour a day for social media – both to post my own content and to engage with others' – and I post live, because when you schedule everything ahead of time you can forget to react to other people's posts. I usually have a monthly plan, but I do leave space to post of-the-moment stuff.
Allow yourself flexibility
Part of the beauty of being a business owner is that you get to set your own hours, and while I do recommend having a daily structure, you should know that you can deviate from it if you need to. For example, if you want to do something non-work related during office hours, you can make up the time during an evening or at a weekend. As long as you get the work done, you have the freedom to decide how to organise your time. That's why I love my job – it gives me the flexibility to achieve a great work–life balance!
---
Would you like to do what Fiona does? We're always on the lookout for new Get Ahead VA Regional Directors, and through our franchise model we offer ongoing support and a proven, successful brand to get you off to a great start. For more details, or for a copy of our free franchise prospectus, contact Rebecca Newenham, owner and founder of Get Ahead VA on (01483) 332220. We can't wait to discuss this exciting opportunity with you!
---
---