Service Spotlight: PR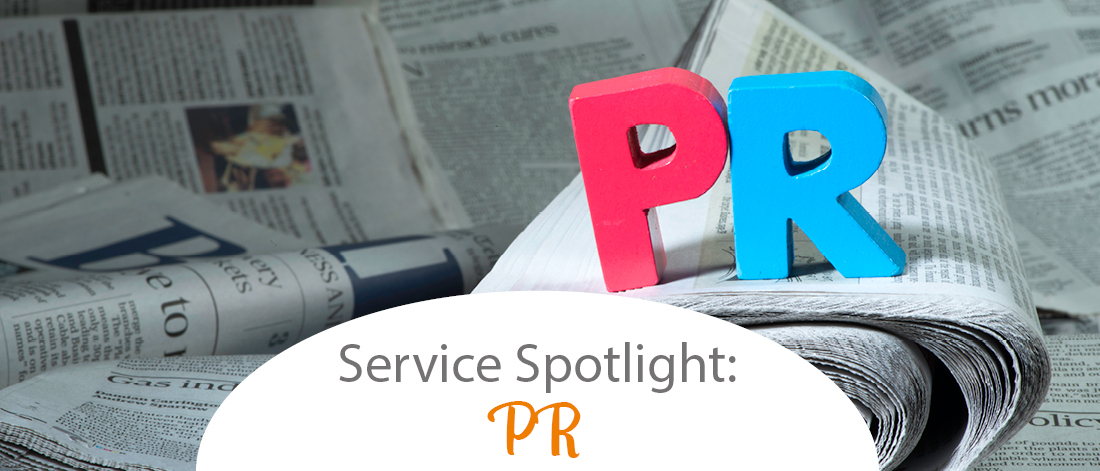 Get Ahead VA offers a wide range of business and marketing services. In our Service Spotlight, we take a closer look at one of these and show you how our virtual assistants can help you and your business. This month, we're looking at PR.
What is PR?
PR stands for 'public relations', and it covers all the activities your business does to spread information, build relationships and present a positive image of itself to the world. In practice, this means communicating with the media, building a reputation through social media or organic marketing campaigns, managing internal communications, and running damage control if something goes wrong.
PR has become more and more important in recent years, as the influence of digital media has increased and provided businesses with many more avenues for connecting directly with consumers and the media. For this reason it's important to have someone with PR knowledge working on your team, to give your business a clear, consistent and well-respected public voice.
What do we offer?
Get Ahead VA offers all sorts of services related to PR, and if you decide to work with us you can choose just one or two specialist services, or opt for a wide range of support. Here is a list of some of the main services we offer:
Developing key PR messages
Creating and delivering PR campaigns
Crisis management
Writing press releases and statements
Dealing with media enquiries
Drafting awards entries
Media training
If you're interested in generating media coverage for your business, we can guide you through the entire process. We will work closely with you to understand your requirements and your audience, and then match you with a virtual assistant with PR expertise. They will either generate a one-off story to sell to the media, or create an ongoing PR campaign, depending on your business' needs.
How will this benefit you?
Good PR can be hugely beneficial for any business, as it molds the business' image and builds useful connections through the media and online channels. With good PR, you can ensure your business is being talked about in a positive way, and create the kind of buzz that will help you to grow, and solidify your reputation as an authority in your industry.
Outsourcing your PR is extremely valuable for those business owners without the time or the skills to manage it themselves. Whether you're concerned about communicating with the press, or you don't know where to begin with writing a press release, Get Ahead VA can help. We have a team of virtual assistants with extensive PR experience who can take on the work for you, so you know your business is in good hands.
---
Are you ready to talk to us about your PR needs? We'd love to chat with you and find out exactly how we can help, so please give Get Ahead VA a call on 01483 332220 or email us at office@getaheadva.com. We pride ourselves on being the staff you don't see, but the difference you do.
Find out more about our services or call 01483 332 220 to discuss in more detail.
---
---