When is the right time to move out of your home office?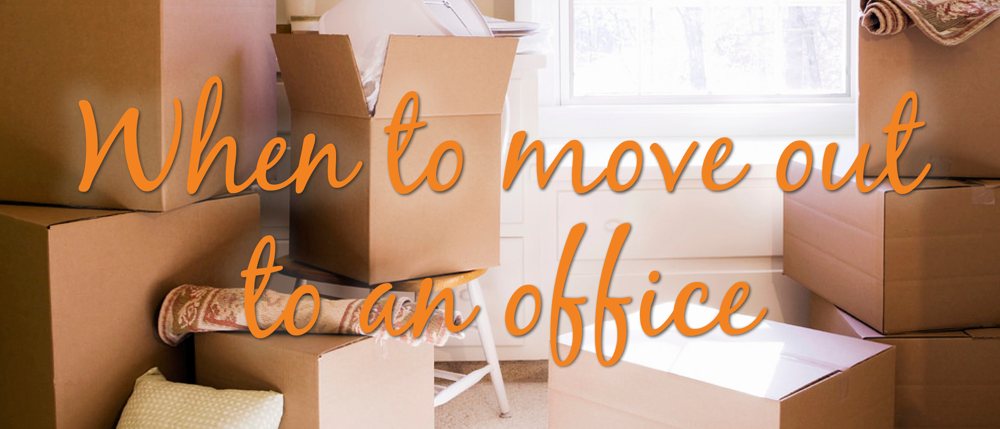 Many entrepreneurs start their businesses from home.  From a laptop on a kitchen table, after the day job has been done or kids are in bed, budding business owners are starting out on their business journeys.
The home office can be a great way to run your business cost effectively.  Yes you may need to invest in a proper desk, chair and basic office equipment, but you don't have to worry about covering the cost of rent each month.  You can even claim tax relief on the expenses of working from home.
But as your business grows there can be a number of reasons why you may need to consider branching out into the outside world.  If you need to take on staff, you might not want them coming into your home.  You might be unsure about the health and safety and insurance implications.  You may be finding it difficult to manage the boundaries between business and family life, if your business is taking up more and more space in your home, or time in your life.  You may feel that you need to have a 'shop front' or meeting space to entertain clients, but your home just doesn't portray the image you are aiming to deliver.
If you are at this critical phase for your business then this 4 point action plan may help:
Define your objectives.  What are your key reasons for feeling you need to move out of the home?  Crystallising this will allow you to hone exactly what you need.  Is it storage space or work space?  Does it need to be client facing or not?  Is it everyday or occasional use?
Research your options.  You need to clearly identify whether the right premises exist and what the costs would be.  Many agents offer introductory discounts including a number of months rent free but ensure you are clear on the ongoing costs once any deals such as this have expired, as well as minimum term requirements, additional insurance options etc.
Write your business forecast.  For some people this can be the hardest part but it is critically important to forecast what you think your sales and profit will be, and therefore whether your move is financially viable or not.
Negotiate your hardest.  Try not to get your heart set on one property but find comparable locations so that you can negotiate to get the best deal for the long term future of your business.
Our Finance VAs are here to help you analyse your costs and support key business decisions such as these.  Working together with Finance, our admin VAs can research options and provide you with the information you need to make the right decision.  Our team of highly experienced VAs love to take on the tasks that you don't have the time to do, don't have the skills to do or simply don't want to do. 
---
Please give us a call on 01483 332220 or email us at office@getaheadva.com to find out more about our virtual assistant service. 
We pride ourselves on being the staff you don't see, but the difference you do.
Find out more about our services or call 01483 332 220 to discuss in more detail.
---
---