Part 2: The small business countdown to New Year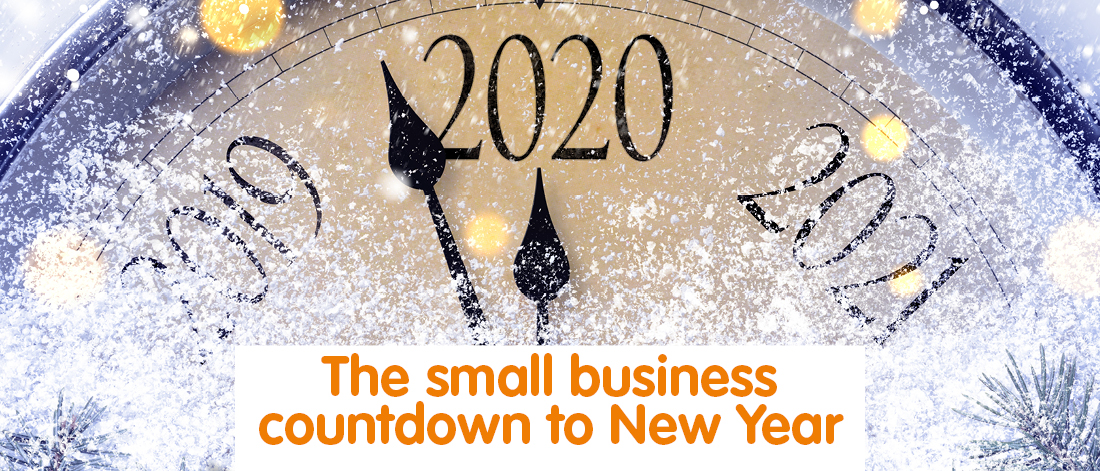 The end of the year is approaching, and we've already brought you our small business countdown to Christmas , but what should you do once the festive season is over and January begins to loom? The new year is a crucial time for any business, and especially so this year as we're entering a new decade, so to help you get off to a flying start in 2020, here is our small business countdown to New Year!
One month before
Although Christmas is likely to be at the top of your mind, you should try to make time for some practical, end-of-year jobs during December.
Employee feedback: Arrange one-to-one meetings with all your employees, to review their performance this year and make plans for the future. You could also ask them to give you their feedback about the business, either in person or anonymously.
Update your calendar: Put in your diary for 2020 every upcoming event for your business, including staff holidays and your holidays, seasonal promotions, conferences, networking sessions, etc.
Check your renewals: Renewal dates are another useful thing to add to your calendar – make a note of when you will need to renew things like software, licenses, contracts and society memberships.
Between Christmas and New Year
You should make time to relax over the holidays, but the week between Christmas and New Year is an ideal opportunity to think about the big picture of your business.
Reflect: Look back over the last year, and the decade as a whole, and think about how far you've come. Write down the high points, the low points and whether you've met any of the goals you set yourself at the beginning.
Consider your vision: When you started out, you probably had a vision about where your business would go. Have you achieved that vision, or has it changed? Perhaps it's time to write a new one.
Set goals: Now break down your vision into a list of goals for the year and decade ahead. Remember that good goals should be SMART (specific, measurable, achievable, realistic and timely).
First week back at work
Hopefully you will return to work with a fresh vision for your business, and now you can put plans in place to make it a reality.
Talk to your employees: Let your employees know that you've taken their feedback on board, and lay out your plans for the year ahead. You want to bring them on board so you can all work towards your new goals together.
Analyse your Christmas data: If you collected data about your business' performance over Christmas, go through it and see if there's anything you could do better. Introducing more efficient processes now will mean they're well established by the time next Christmas rolls around.
Review your finances: Start the year off right by giving your finances an overhaul. Are all your expenditures necessary? Could you get a better deal elsewhere? Is there a profit-making opportunity you haven't pursued?
Turn off your out-of-office alert: A small thing, but easy to forget. Make sure your clients and customers know you're back!
---
Do you need help to grow your business during 2020? Get Ahead VA offers business development services from experienced virtual assistants, so you can expand into new areas without stretching yourself too thin. To find out exactly how we can help, please give Get Ahead VA a call on 01483 332220 or email us at office@getaheadva.com. We pride ourselves on being the staff you don't see, but the difference you do.
Find out more about our services or call 01483 332 220 to discuss in more detail.
---
---