Part 1: The small business countdown to Christmas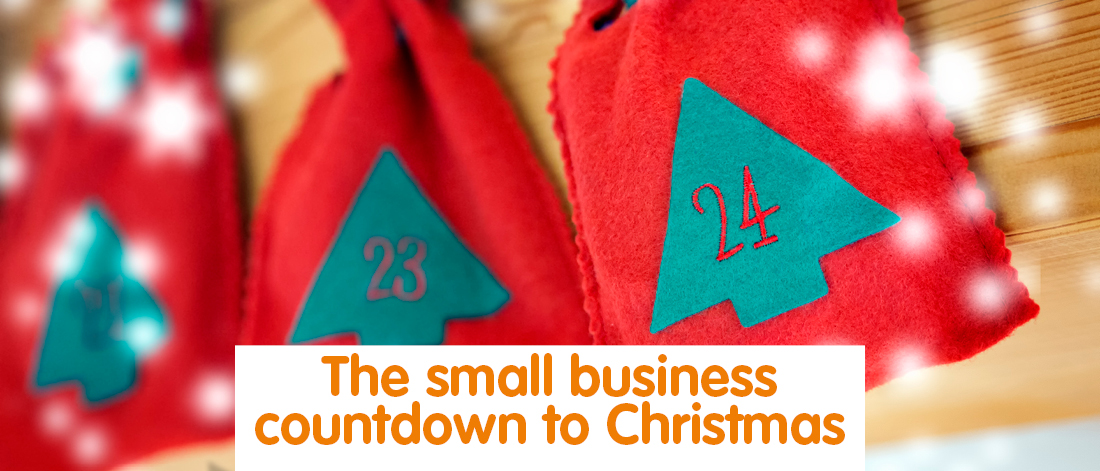 Christmas is just around the corner (less than a month to go!) and your business's festive marketing should already be underway – but that doesn't mean you can rest on your laurels. These final weeks before Christmas can make or break a small business's seasonal profits so, with that in mind, here's a handy countdown of what you should be doing in the last three weeks before the big day!
3 weeks before
Update your website: Your Christmas offering needs to be front and centre on your website, whether you're running a special promotion or pushing seasonal products. You should also clearly signpost any practical information, such as Christmas opening hours and final dates for delivery.
Put up decorations: If your business has a brick-and-mortar premises, put up some Christmas decorations and pop on the Christmas tunes, as long as that fits with the tone of your brand!
Update your email footer: Put your Christmas holiday dates in your email footer, so your clients know when you're going to be unavailable.
Write a gift ideas list: Post a list of gift ideas to your blog and promote it on social media. Of course, you should promote your own products, but you can also spread the love and mention other people's products too. They might just share yours in return!
2 weeks before
Daily social media: Make sure you're posting to your social media accounts every day – you could push your own promotions or products, share Christmas-themed content, run a competition or host a fun festive poll.
Send Christmas cards: It's good to say thank you, so why not send Christmas cards to all the clients you've worked with this year? If you sell products, you could include a festive postcard with every delivery.
Keep records: Make detailed notes about how your business operates over Christmas. What products sell best? What sort of social media posts do your customers respond to? When are your busiest times? All this information will help you to make next year even better.
1 week before
Thank your employees: Show your employees that you're grateful for all their hard work by giving them a token of your appreciation. Click here for some ideas about how to properly thank your employees!
Schedule your social media: Line up any social media posts you want to go live over Christmas, so you don't have to write and post them during your holiday.
Turn on your out-of-office: Don't be tempted to look at your business emails over Christmas – on your last day at work, turn on that out-of-office notification! Your business will be better off if you properly rest and recharge over the Christmas break.
Christmas Day
Relax! Thanks to all your careful preparation, everything is sorted and you can enjoy your day.
---
Do you need some extra help over the festive season? Get Ahead VA offers a variety of business services to keep your business running during this busy period. To find out exactly how we can help, please give Get Ahead VA a call on 01483 332220 or email us at office@getaheadva.com. We pride ourselves on being the staff you don't see, but the difference you do.
Find out more about our services or call 01483 332 220 to discuss in more detail.
---
---