Mindful marketing during the coronavirus pandemic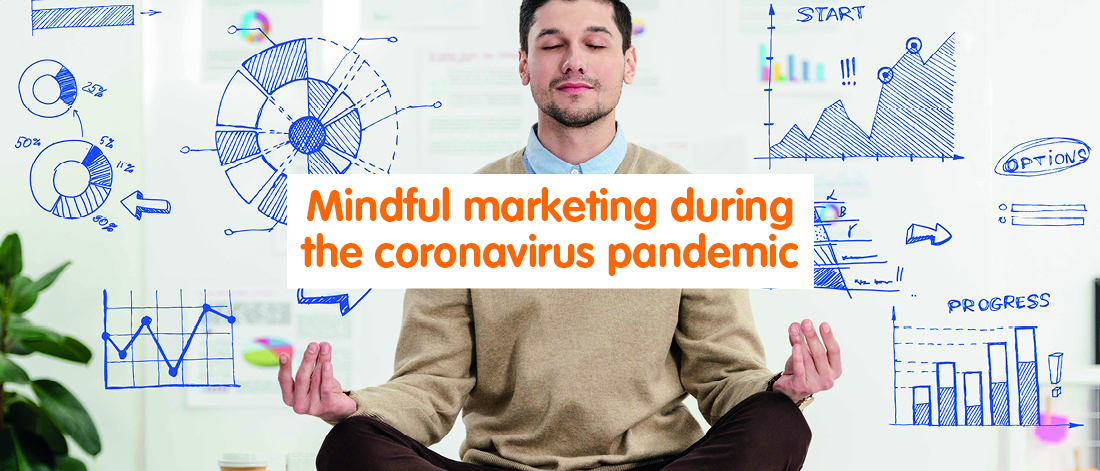 A lot has changed in a week, and this continues to be a very strange time for the world. The UK government has now ordered all pubs, restaurants, cafes, libraries and gyms to close, as well as shops selling non-essential items.* Many businesses are feeling the impact of these new protective measures, especially small businesses and independents, and many business owners now find themselves in the position of trying to keep things running while also heeding expert advice.
If you are one of the many people trying to come to terms with this new reality, we're here to help, with some advice about how to market your business, mindfully and sensitively, during this difficult time.
1. Acknowledge it
The first thing to do is acknowledge to your customers what is happening, and what your business is doing to respond to the crisis. This might include closing brick-and-mortar stores, having your staff work from home or – if your business is part of a key industry – introducing new safety and hygiene measures. Whatever field you are in, it's important that you talk to your customers, rather than just continuing with business as usual.
2. Reassess your marketing
Chances are you've already planned your marketing for the next few weeks or months – perhaps you've drafted email newsletters, scheduled Twitter or Instagram posts, or written blogs. If that's the case, now is the time to go back over all your content and marketing plans and rethink them. Are they still relevant, given what is happening? Can you replace them with something more appropriate? It is much better to put in extra work to do this now, rather than ploughing ahead with content or campaigns that no longer strike the right tone.
3. Be agile
Typically, we advise business owners to plan ahead and be prepared – this is still important, but the next few months will likely require you to be more agile and responsive in your marketing efforts. This is an unpredictable, fast-changing situation, so any content you prepare could become redundant after a few days or weeks. Instead, try to be more flexible, and be prepared to change your marketing quickly if required.
4. Keep up your presence
It may feel like the best option right now is to stop marketing altogether. But if you feel able to keep doing it, and it is appropriate to do so, then you can continue to promote your business. Perhaps you could adapt your offering to suit the latest advice (e.g. focussing on online work, or selling vouchers that can be redeemed later), but even if you have to close, you can at least stay present with your audience as things progress. Despite the current atmosphere of uncertainty, this is temporary, and your customers and clients will want to return to you once this has passed, so let them know that you will be ready to welcome them back.
If you need extra support for your business during this tricky time, please give Get Ahead VA a call on 01483 332220 or email us at office@getaheadva.com. Our team of virtual assistants is happy to help with whatever business and marketing services you need. In the meantime, we hope you and your loved ones stay safe and well.
* https://www.bbc.co.uk/news/uk-52010707
---
---