How to reduce plastic in your workplace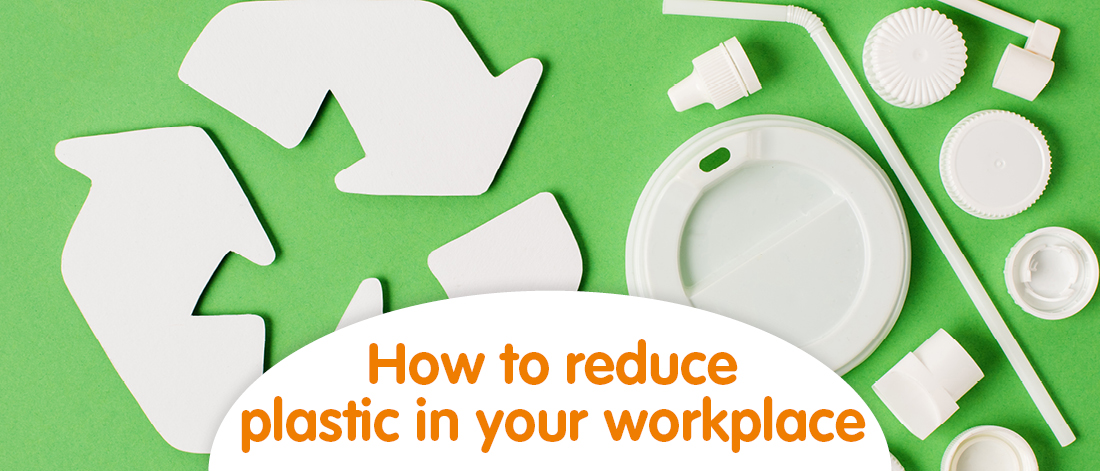 Plastic is a hot topic – the buzz around it began in earnest thanks to the BBC series Blue Planet II, which raised awareness about the damage plastic is doing to our oceans and sea life. Earlier this month, people and organisations around the world celebrated World Oceans Day (8th June), an annual event which encourages people to protect our oceans against threats like plastic.
So how can you, as a business owner, get involved with this movement? We've gathered together a few ideas – big and small – to help you reduce plastic in your workplace.
Start small
The most obvious place to start is by cutting down on everyday single-use plastic. You could begin by carrying out a 'bin audit': collect all of the rubbish in your workplace over a week (minus anything that could rot) and then go through it to see what you're throwing away, what you could be recycling and what plastic-free alternatives will be the most effective for your business.
Some simple actions you can take against single-use plastic include:
Recycling ink cartridges.
Switching plastic water cooler cups for biodegradable ones, or, even better, providing mugs and glasses for staff to use.
Supplying staff with reusable Tupperware and drinking bottles to discourage use of sandwich bags, cling film and single-use water bottles.
Putting out recycling bins with clear signs about what can and can't be recycled.
Replacing tea and coffee supplies with plastic-free alternatives – e.g. arranging milk delivery in glass bottles, and switching out plastic tea bags for eco versions or loose leaf tea.
Get staff involved
For your changes at work to be really effective, you will need to get your staff involved. You could begin by holding a plastic awareness day (where you could present the results of your bin audit), and offer incentives or rewards to people who manage to cut down on their plastic use.
You should also encourage your team to share their own ideas for eliminating plastic. The important thing is to make your staff realise that you are all in this together – it isn't about shaming people for their plastic use, it's about working towards something better as a team.
Make a statement
For the small changes to be effective, they must go hand in hand with bigger changes. For a business, this could involve only buying from eco-friendly suppliers, or switching to plastic-free packaging for your products. This could cost more money in the short-term, but if you are able to afford it then it sends a clear message. Increased demand for plastic-free alternatives will mean they become more mainstream, and this should help to bring down the price in future, for everyone.
You should also share what you're doing wherever you can – shout about your efforts on social media, make eco-consciousness part of your company policy and ensure that your customers and clients know what you're doing. By joining your company's voice with the voices of thousands of others, the call to eliminate plastic will only get louder and harder to ignore.
---
Do you need extra help running your business? Get Ahead VA has a team of friendly, experienced virtual assistants who are ready to help with any job, large or small, whenever you need them. We'd love to chat with you and find out exactly how we can help, so please give Get Ahead VA a call on 01483 332220 or email us at office@getaheadva.com. We pride ourselves on being the staff you don't see, but the difference you do.
Find out more about our services or call 01483 332 220 to discuss in more detail.
---
---