How do I manage my own holidays when I'm a Get Ahead franchisee?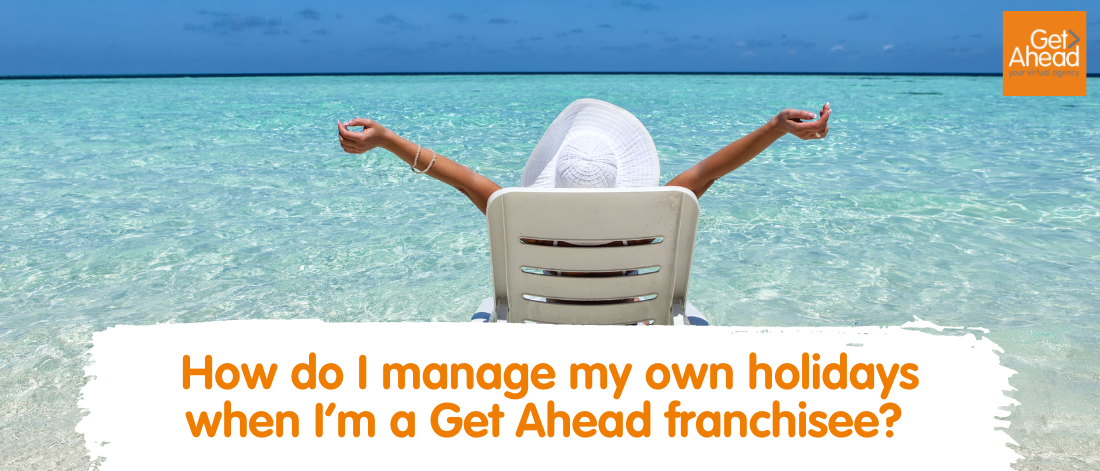 We are very proud of the flexible opportunity we offer our franchisees. Everyone works better after they've taken a break, whether it's a fortnight's holiday abroad or lunch with a good friend.
When you join the Get Ahead family, you are free to work in the way that suits you. However, if you're used to nine-to-five, managing your own hours and your own holidays can seem daunting. Fortunately, our franchise model works means you can take holiday without your business grinding to a halt.
Here are five ways to manage holidays when you're a Get Ahead franchisee:
Know that breaks are important
We all work better after a break. We want our franchisees to feel able to take holiday, spend time with family or redecorate the kitchen! We work so we can have job satisfaction, support ourselves and our families and have the home and lifestyle we want. But if we don't take breaks, we don't get to appreciate what we were working so hard for.
Use the Get Ahead team to cover your holidays
Get Ahead provides – among other services – holiday cover to busy business owners. When one of our franchisees goes on holiday, they can access the same business support as Get Ahead clients. Our franchisees divert their calls to our phone answering team. They outsource the invoicing to one of our financial experts, and ask one of our social media managers to keep up on Facebook and LinkedIn. Having a great team to call on is a key advantage for our franchisees – it's also an opportunity to see Get Ahead from the client side.
Let the franchisee team know
The Get Ahead franchise team is super-supportive. Everyone has their own area, so no one is in competition. This also means that if a new lead gets in touch while you're on holiday, you can ask one of the other franchisees for support. You don't have to worry that they'll "steal" the lead for themselves – instead, they'll support you and you can take up the reins again on your return.
Let your key clients know you'll be away
Some Get Ahead work involves project management. Depending on the size of the team you've put together to deliver client work, you might also hold the role of project manager. If you're going to be on holiday, remember to let any clients you're supporting know.
Ask someone from your network to sub for you
Networking is a big part of being a Get Ahead franchisee. If there is a regular networking group you attend, you don't want to let your consistent presence slip while you're away. Either approach someone in your local business family, ask the organisers to find someone, or ask one of your local Get Ahead virtual experts to represent you at networking.
Buy a Get Ahead franchise
When you buy a Get Ahead franchise, you join a supportive team who work together to make the business better. This also makes it easier to take a holiday when you want or when you need to – really important for productivity and all-round happiness.
To find out more about joining the Get Ahead family, get in touch today – we'd love to hear from you.
---
---