Harness the power of data for your business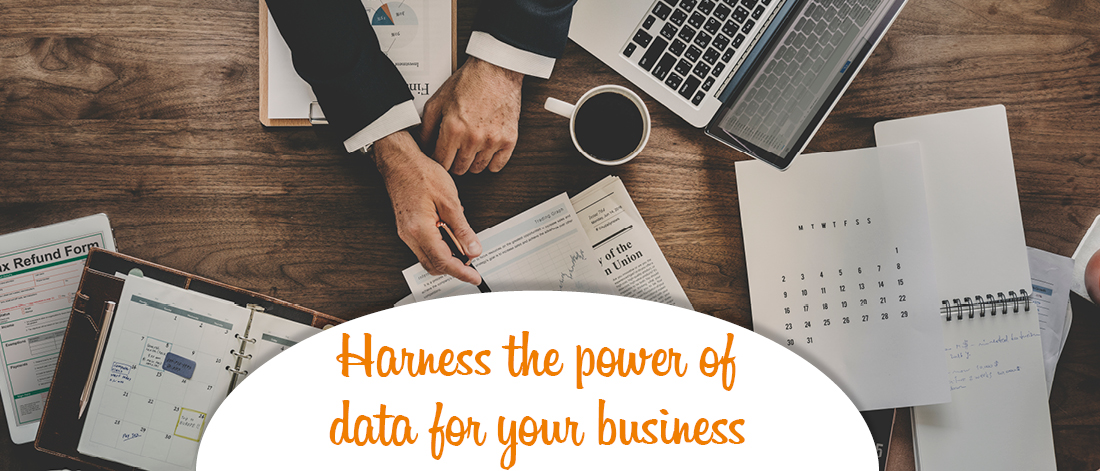 Do you collect data about your business? It might seem like an obvious thing to do, but for many small business owners the answer is 'no', even though harnessing the power of data can help you to increase your revenues, reach more customers and grow your business.
In the modern world, the most effective way to gather data is through a website. However, according to research published in 2017,* nearly two million SMEs don't have a website, even though they stand to gain the most growth in revenue by having one. So what's so important about gathering data, and if you don't do it already, where should you begin?
What is data collection?
Data collection is the gathering of information from a wide range of sources to create a complete picture of your business and how it fits into the market. This data can be used to discover strengths and weaknesses, uncover opportunities, and generally improve what your business is offering to the world.
It's very likely that you're already carrying out some form of data collection in your business – most importantly, financial data, such as profits and expenditures – but you may find that most of this data is related to how your business operates internally. The real value, in terms of growth, comes from collecting data about a more external aspect of your business – your customers.
Gathering valuable data
Your customers are the driving force behind your business, but what do you really know about them? Online platforms, such as your website, can provide an information goldmine about the people who are actually using your services. The good news is that it is relatively easy to get started.
For your website, there's Google Analytics. This is free to use and it tracks all aspects of the traffic to your website, from demographic data about your customers (age, gender, location, numbers of new and returning visitors), to information about how they use your website (search terms, most popular pages, how long they stay), to 'conversion' data (i.e. how a visitor turns into a customer who actually buys something from you).†
Most social media accounts (e.g. Twitter, Facebook) come with built-in analytics, so you can learn more about your audience and the type of content they respond to. You can also see how your follower count rises or falls over time, and discover popular events or topics that other people are talking about.
Email programs such as MailChimp will show you information about your audience and provide a report about any email you send (e.g. how many people opened it, how many clicked through to your website, how many went on to buy something). You can also directly communicate with your customers through email, by sending them surveys and asking for feedback about how your business is doing and what could be done to improve.
How to use the data
Of course, it's one thing to gather data and another to turn it into useful, actionable insights. The first step towards doing this is to convert the raw data into something that is easier to read. Many built-in insights platforms will do this for you, but with something more complex, like Google Analytics, you may have to spend some time drilling down into what you really want to know about.
Once you have clear, readable data, you can use it for a number of purposes:
Segment your audience: If certain products/services get a greater response from particular parts of your audience, you can target your marketing campaigns more effectively towards the people they will appeal to.
Craft your content: Maybe a certain type of blog post or style of Tweet gets more response from your followers than others. Knowing this will help you to adapt your content to better suit what your audience likes.
Understand your customer: Perhaps you always thought the majority of your customers were of a certain age or gender, but the data tells a different story. Getting to know who actually buys from your business will allow you to cater to their needs more effectively.
Collecting and analysing data does require time, but the rewards can be enormous. Data can truly open your eyes to unrealised aspects of your business, and lead you towards new and exciting opportunities.
---
Good data collection starts with a good website, so if you need to build one or to improve an existing one, Get Ahead VA can help. We offer professional website design that will get you off to a flying start. Please give us a call on 01483 332220 or email us at office@getaheadva.com. We pride ourselves on being the staff you don't see, but the difference you do.
Notes:
* https://www.em360tech.com/tech-news/2-million-small-businesses-in-the-uk-dont-have-a-website/
† Of course, since the introduction of the new GDPR rules, companies must be much more upfront about the data they collect from customers, so you must make sure your website is GDPR compliant.
Find out more about our services or call 01483 332 220 to discuss in more detail.
---
---