Continue your professional development when you buy a Get Ahead franchise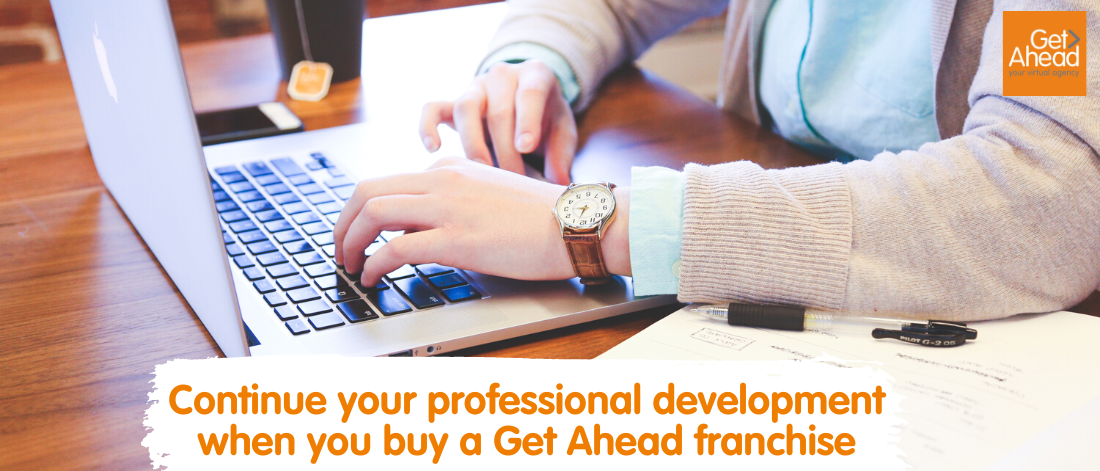 Our franchisees have a wide variety of backgrounds. Some have owned franchises before, while others have come from the corporate world in search of a better work-life balance. If you're researching franchises, you'll be pleased to hear that Get Ahead includes opportunities for professional development. With a Get Ahead franchise, you can continue to learn new skills and develop your experience. This professional development will always support your career, whether you pay it back into your own Get Ahead franchise or take it with you if you start a new chapter.
In this blog, we take a closer look at the career development opportunities we offer our franchisees.
Build on existing skills
Everyone has different strengths and experiences. For example, you might be strong on finance but not sure about marketing, or great at managing a team but shy about networking.
Knowing this, we help you start your professional development as soon as you join Get Ahead. Our two-day induction not only introduces you to the business, but also bridges your skills gaps. We won't make you sit through the finance part of the training if you're already good with figures; instead, we'll focus on the areas where you need more knowledge to help you make a success of your franchise.
Online and offline networking training
Networking is a key part of making a Get Ahead franchise work. A good network is important for finding and keeping clients. When you first go networking, you'll meet people directly and can offer them outsource business support. But when your network is strong, people in that network will recommend your services – that's how to make your business sustainable.
All our franchisees receive training in how to network effectively, both at in-person events and through social media platforms like LinkedIn.
Mentoring
Get Ahead's owner, Rebecca Newenham, started off running the Guildford territory before she expanded the business in 2017. She has direct experience of doing the job you'll be doing: managing a team of virtual experts and liaising with clients. She offers mentoring to all the franchisees. In addition to a regular monthly online meeting for franchisees, she's always at the end of the phone. Rebecca also makes a point of visiting the franchisees when she can, and supporting them at business expos in the different regions.
Continuing professional development
We offer franchise opportunities because we feel that career progression should be open to people who need flexibility in their lives. The corporate world is not the only place where you can develop skills and feel pride in your work – franchising is full of opportunities too.
Running a Get Ahead franchise will give you plenty of opportunities to build on the experience you already have. For example, if you're accustomed to running a team in an office, Get Ahead gives you the chance to manage a team of remote workers. Project management skills translate well too, with each outsourced job being delivered by the virtual experts but managed by the franchisee. You can build on the skills you already have, while also enjoying the freedom to use them in the way that works for you.
Additional opportunities
If you have strong skills that others in the franchisee team lack, we'd love you to share them. We're a supportive team and we love helping each other! We also feel that training others, even informally, is a great way to cement your knowledge and develop a new appreciation for the skills you have.
As Get Ahead grows, we are able to create opportunities for our franchisees to take on more responsibility if they would like to. For example, one of our regional directors has taken on the recording of our wider team's skills. She has found the best software to record which virtual expert has what experience, so the other regional directors can easily see who is the best fit for an upcoming job.
Find out more about Get Ahead franchises
We hope this blog has helped you understand more about how Get Ahead supports professional development. Research is a very important part of the franchise process – please explore our site and find out more about what we have to offer. If you have any questions, we'd love to answer them –please contact us and we can book in a call.
---
---