Buy a Get Ahead franchise – a great balance of freedom and support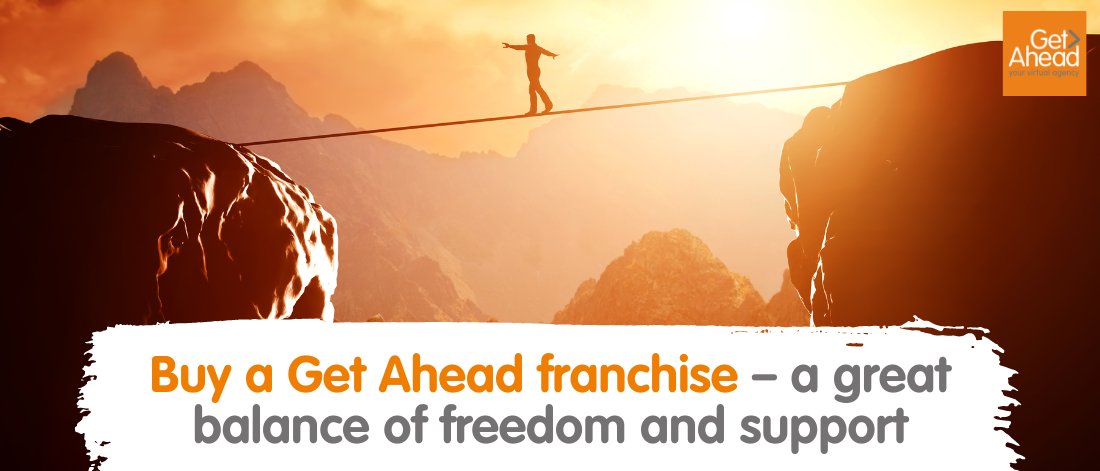 Discussing experiences of being a Get Ahead franchisee recently, a comment that emerged was that we provide a great balance between freedom and support. That was just what we were going for, so we were delighted that our franchisees felt that way!
In this blog, we take a closer look at the Get Ahead model and what freedom and support look like when you join our team of regional directors.
How does Get Ahead offer freedom and flexibility to franchisees?
Flexible working
We believe that people give their best work when they're free to work flexibly. For this reason, we let our franchisees choose their own hours, working around families, voluntary work and anything else that's important to them.
A scalable model
Our working model is scalable. There is a team of virtual experts to deliver client work, and the franchisees don't have to deliver it themselves. This takes a lot of the pressure off our franchisees, and they can do as much or as little networking as they like, and take on clients as many clients as they feel they can manage.
No targets
Some franchises follow a target-led system, but we don't. Owner Rebecca Newenham franchised her business so she could offer the same career choice, flexibility and quality of life that she'd had running Get Ahead's first office in Guildford.
Work your own way
We also offer more freedom than you might have working for a large corporation. Our regional directors can work in whatever way is best for them. If one of our regional directors has an idea, they're also welcome to share it; they're also free to follow their own instincts about how to approach a particular project. This is possible because new franchises build up their own teams in their local areas – a team they are free to manage in the most effective way.
How does Get Ahead support franchisees?
Regular contact with owner Rebecca Newenham
Freedom is only enjoyable if you've got the right support. Rebecca has regular contact with all the franchisees, and makes a point of attending business expos with them for moral support. She holds monthly Zoom meetings with the franchisees to celebrate successes and advise on problems.
Support, not competition, from other franchisees
All the franchisees cover their own area. This means that they don't compete with each other, and they're always at the end of the phone to share experiences and lend a listening ear.
Access to other teams while you're building your own
As soon as you find your first client, you'll need one or more virtual experts to deliver the work required. In the early stages, franchisees can tap into the existing network of virtual experts, saying yes to clients straightaway. Even after they've established their own regional team, they can still approach members of the wider team if the expertise is unavailable locally.
Centralised marketing
The in-house Get Ahead team create regular marketing resources, including monthly blogs, case studies and infographics. Franchisees can use these however they like to increase their visibility and educate potential clients.
Training and CPD
No one's good at everything but everyone's good at something. We provide training to close any skills gaps, or just increase your confidence. There are also opportunities to share your knowledge with the wider Get Ahead team and pick up ideas from others.
Buy a Get Ahead franchise
If you're looking for a franchise opportunity where you have the freedom to work your way, but know the value of a good support network, Get Ahead could be the answer. To find out more, get in touch with Rebecca Newenham and the team on 01483 332 220 or use our contact form here.
---
---