5 things you didn't know a virtual assistant can do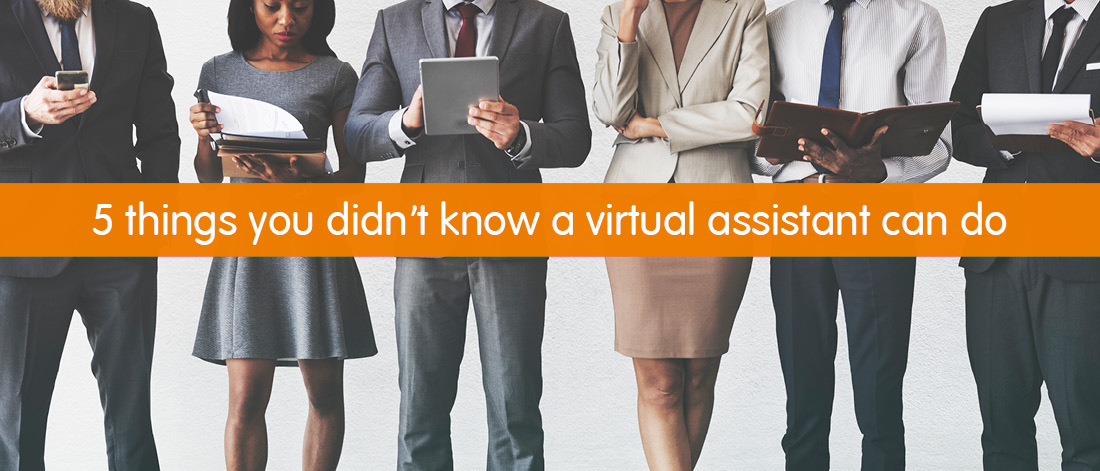 When asked to list what a virtual assistant does, many people stick to everyday administration tasks such as managing databases, replying to emails and answering telephones. Yes, virtual assistants do all of these things, but we offer many other services too – and some of them might surprise you.
Want to learn more? Here are 5 things you (probably) didn't know a virtual assistant can do.
Many virtual assistants offer a graphic design service, which can include creating leaflets and newsletters, designing brochures and stationery, and even developing a brand and logo for your business. Good design makes a business appear more professional, legitimate and accessible, so hire a virtual assistant to fill all your design needs, from the biggest job to the smallest.
Content marketing (i.e. attracting and building an audience through online content) is one of the most rewarding ways to promote a business: research has shown that it can cost two-thirds less than traditional marketing and generate three times as many leads. Of course, it takes time to create good content, but there are many virtual assistants with copywriting skills who can produce regular content for your audience.
A professional website is essential for any modern business, but if you're not tech savvy it can be difficult to know where to begin. Many virtual assistants are able to take the worries of a website away; we can offer everything from design to building to hosting and maintenance. Give your website to a skilled VA and rest assured that the online side of your business is in safe hands.
Good social media management requires work little and often, but it can be difficult to fit this into your working day. A virtual assistant can keep all your social media profiles up to date, interact with other people in your field and even develop a social media plan to take the hassle out of maintaining your online presence.
A virtual assistant can not only help you manage your business, but also help it to grow. Some VAs offer a business development service, which involves researching and calling potential prospects, and setting up appointments. We can generate opportunities so that you can concentrate on running your business and nurturing those new connections.
---
Next time you need help with any aspect of your business, consider hiring a virtual assistant. At Get Ahead VA, we offer all the services mentioned above and many more, so please give us a call on 01483 332220 or email us at office@getaheadva.com. We pride ourselves on being the staff you don't see, but the difference you do.
Find out more about our services or call 01483 332 220 to discuss in more detail.
---
---