10 things we've learned from 10 years in business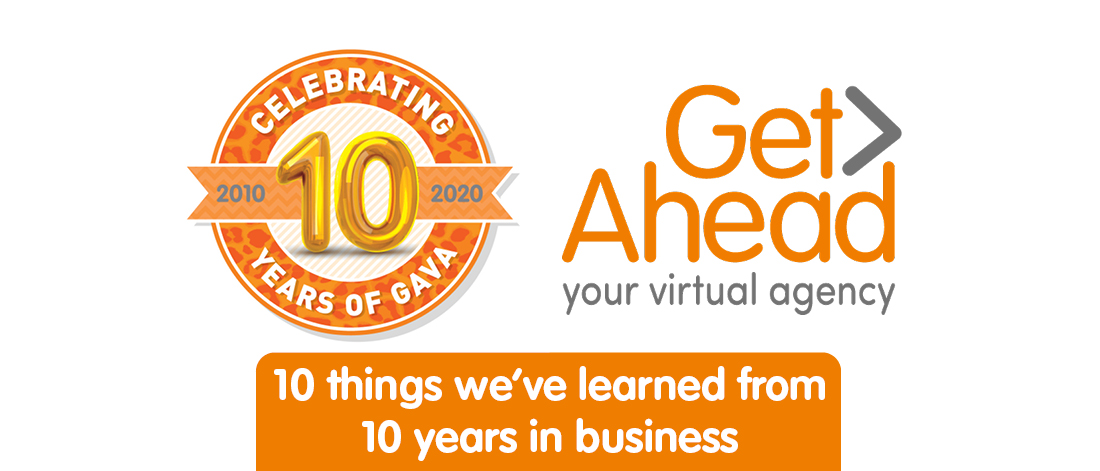 This month Get Ahead VA is celebrating its 10th business birthday, and we couldn't be prouder of reaching this amazing milestone.
Of course, the last 10 years have taught us a lot about how to run a business, and today we'd like to share with you some of the best lessons we've learned over the years. So we talked to our team of Regional Directors to uncover their most precious nuggets of wisdom – here are 10 things we've learned from 10 years in business.
1. Set achievable goals
It's really important to set goals, so you will always have something to work towards. These goals should be achievable – try to break them down into smaller segments that you can tackle one at a time – and you should revisit them regularly and track your progress, to help you stay true to the vision you have for your business.
2. Find a business coach
A business coach can help you with the strategy side of your business, and also with setting and tracking your goals. They can be a fountain of wisdom, a source of guidance, a listening ear and someone to keep you accountable – they are invaluable!
3. Build a network
Having a strong network around you will help you through the most difficult times, so try to build connections with like-minded business owners working in the same field as you, both online and offline. Not only will they help you when you need it, but you can give back by helping them too.
4. Be authentic
One essential way to maintain your business network is to be as authentic as possible. Try to be the same person online as you are offline, so that when you meet your virtual contacts in person they will know their connection with you is genuine.
5. Look after existing customers
Speaking of meaningful relationships, you should spend more time on your existing customers than on finding new ones. You will create a more stable basis for your business if you focus on customer loyalty, rather than treating your current customers carelessly in order to chase the next lead.
6. Learn to say no
Early on, you might find that you say yes to every job and opportunity that comes your way, but it's crucial to learn how to say no. Remember, not everybody is your client, and if a piece of work isn't right for you then you don't have to take it!
7. Understand your finances
It's so important that you understand your finances, at least to the basic level of incomings and outgoings, costs and profits. For the more complicated stuff, find a proactive accountant who will take care of your money and answer any questions you have.
8. Manage your time
Time management is a key skill for all business owners – you need to be able to prioritise and to block out time to work on important tasks without distractions! We recommend laying out your schedule at the beginning of the month and setting aside time for the core work you need to do.
9. Listen
Every good business owner listens to feedback and makes positive, constructive change based on what they're told. Listening is essential, both to your clients/customers and your team, so make sure there are always clear, open channels for people to reach out to you.
10. Play to your strengths
You know where your strengths lie, whether it's in management, organisation, service delivery or marketing. For everything else, you can outsource to a skilled professional, like a virtual assistant. Get Ahead VA offers all kinds of business support, from email marketing to social media management to bookkeeping. To find out how we can support you, get in touch today on 01483 332 230, or email office@getaheadva.com.
---
---