What part should blogging play in your marketing strategy?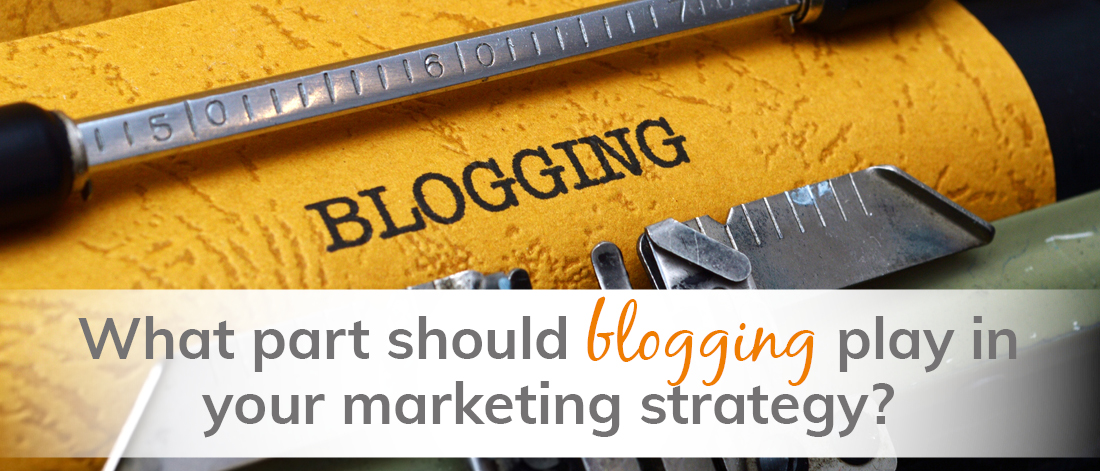 If you're a business owner, you've probably been told that you should have a blog, or publish regular articles or news items. But what about the detail? What's so great about blogging? And what part could blogging play in your marketing strategy?
It's time to demystify blogging and answer the questions. Let's explore the role blogging can play in getting new clients to notice your business…and then make it happen!
Blogs communicate your message
The most basic function of a blog is to communicate your business message. You can share news and views, top tips and giveaways. You can establish yourself as an industry expert, using the quality of your blog to show the breadth of your knowledge.
A fascinating thing about blogs is that they can communicate a lot without anyone actually reading them. For example, if a new client is exploring your site and sees you have a blog, they might take note of the titles without actually opening any particular article. But they'll be picking up that a) you care about your business because you're sharing content regularly and b) you're confident about what you do and are therefore worth buying from.
Blogs work in conjunction with short content and social media
We all know from experience that long posts don't get much engagement on social media. By contrast, brevity and bullet points do. Unfortunately, it's hard to fit your whole message into two chatty sentences on Facebook.
That's where blogging comes in. When you are planning your content marketing, think about your blogs and social media and make sure they work together. For example, you could take a pithy sentence from a blog and use it as a meme or infographic, then include the link to the blog for those who want to read more. When you work in this way, you are also using the blog as a launch pad for your social media content, which saves a lot of time.
You can also work the other way round, and use the blog to develop ideas you've shared on social platforms. So, Get Ahead might create a brief post saying that blogging is a great idea (which it is) and then invite people to check out the blog and website to get a more detailed picture.
SEO – search engine optimisation, or helping Google find your website – should be part of your marketing strategy, and it's a part that blogging can help with. When your website is fully optimised for Google, Google will "choose" to show it to potential customers over and above your competitors' websites. And, broadly speaking, more clicks mean more customers.
Blogging helps this process. It provides a natural reason to use keywords – the blogging style forces you to write for human beings (Google likes that!) while also using the phrases that potential customers are searching for.
Google also prioritises websites that are frequently updated. A blog is a natural update – a reason to add new content without it seeming contrived.
We hope that people will read your blog, but even if they don't, your blog will still work towards your SEO by providing an opportunity for keywords and new content.
Learn more about content marketing
The Get Ahead team have seen for themselves how effective blogs can be, especially when they are a considered part of your marketing strategy.
If you've found this blog useful, you might also like:
What is content marketing and how does it work? – Get Ahead VA
Find out more about our services or call 01483 332 220 to discuss in more detail.
---
---