Top tips for commuting by bike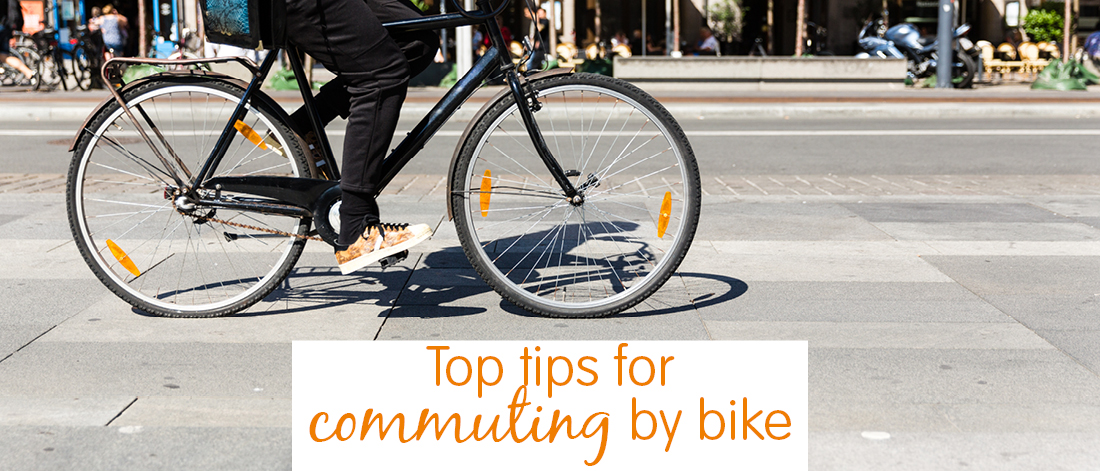 Many of us are now going back to work and the morning commute, but with a difference – lots of people are starting to commute by bike. You might be considering this if you want to avoid public transport, get some exercise, or take advantage of the government's new plans to boost cycle travel in the UK.
Whatever your reasons, this is the perfect time to try out commuting by bike. National Cycle to Work Day is happening this week, on Thursday 6th August, so if you've always wanted to try it, why not make this the week you start? Here are our top tips to help you get into this great new habit.
1. Get a good bike
Having the right bike for your commute is essential to keep you safe and comfortable. You should consider the surfaces you'll be riding on (e.g. roads, paths, rough or smooth ground) and the distance you'll be travelling. Urban commuters typically use hybrid bikes, which are lightweight and have good suspension, but you should do some research or talk to an expert in your local bike shop to find the perfect match. Once you've found your bike, make sure you get it serviced regularly (about every six months) to keep it in good condition.
2. Add safety equipment
You can add all sorts of features to your bike to make it safer, but the essentials are a bicycle helmet, a bell to warn people out of the way, and lights or reflectors so cars can spot you in the dark. You will also need a lock for your bike (some people recommend getting two different types of lock for extra security), and it's a good idea to carry a puncture kit in case you need to make a quick repair.
3. Do a practice run
Before you start commuting properly, practice your route on an evening or weekend, when you're not hurrying to arrive on time. Cycling UK has a journey planner that will let you plot your route beforehand, and show you where you'll be on roads or cycle paths. Use your practice run to get to know the roads, and to see how long the journey takes and how sweaty or tired you are by the end of it! If you've never cycled on roads before, Cycling Weekly has some great advice about doing so safely.
4. Pack for the journey
You will need to carry things with you for work – a bike basket is useful for carrying a few things over a short distance, but you should get a backpack or pannier bags if you have more to carry or further to go. Add a bottle rack to your bike so you can easily take a drink during your ride, and you should also consider what you'll need during or after your journey, like a waterproof jacket if it rains, a change of clothes for the office, or a snack to give you back some energy.
5. Make it fun
Remember, cycling to work can be fun! Perhaps you could try out a few different routes, including a quick one when you just need to get there, and a longer, more scenic one for if the weather is nice. You could even find a cycling buddy to join you on your commute, so you can keep each other accountable and have someone to chat to on the way!
Do you need extra support with running your business, now that things are opening up again? Get Ahead VA offers business and marketing services to help you find your feet after the recent disruption, including telephone answering, accounting and administration. To find out how we can help, get in touch today on 01483 332 230, or email office@getaheadva.com.
Find out more about our services or call 01483 332 220 to discuss in more detail.
---
---