Three ways to level up your business through outsourcing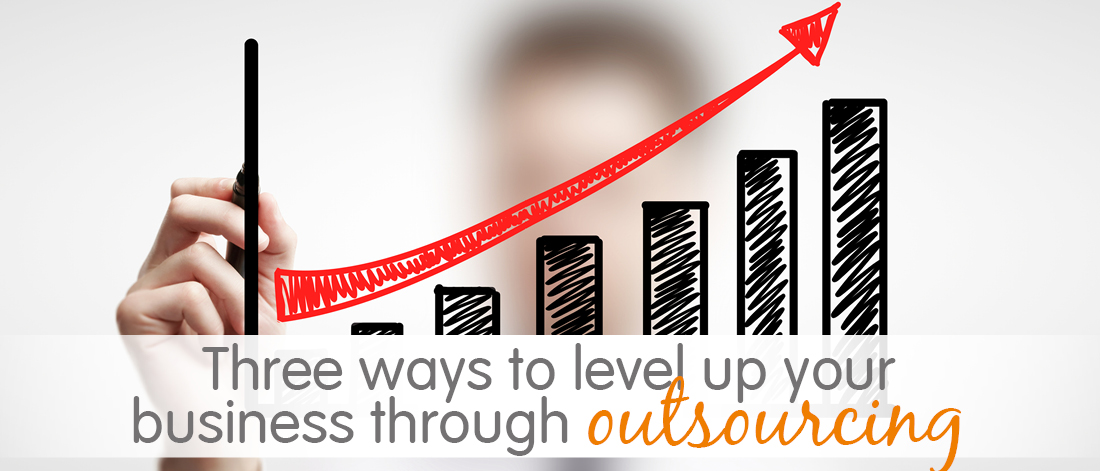 Ambitious entrepreneurs want to take their business to the next level. Depending on where you are in your career, "the next level" might be a taking on a second client, or opening a second office. Whichever step is right for you, outsourcing can help you expand at an affordable pace, without committing to a huge outlay before your return is guaranteed.
Here are three ways that outsourcing can take your business to the next level:
Outsourcing frees you up to expand the business
If you work on your own, or you only have a small team, much of your working day will probably be spent on doing mundane tasks like filing and phone answering. But to level up, you should be using your time to grow your business. You might be networking to find new leads, identifying areas for business development, planning new products and services or finding ways to work smarter.
That's why savvy business owners outsource their admin. By passing on the most basic tasks, business owners free up their time to pay attention to their business and expand in the right direction.
High quality work attracts the right clients
To really make your business go somewhere, your efforts should be supported by the highest quality work. Your marketing needs to make your potential clients sit up and listen, and your slick customer service should make them take you seriously.
Outstanding work attracts – and retains – the right clients. By "the right clients," we mean the ones who will treat you professionally, value your work and pay on time. For example, a stunning website and a consistent online presence will put off the time wasters, while an automated and accurate invoicing system will help you keep your regular clients.
When you outsource, you are passing a task on to an expert. Because social media, phone answering, copywriting or any other role makes up the majority of their work, they produce better results in their field than a business owner who can do a little bit of everything.
You can read more about why outsourcing ensures high quality work here.
Business development can be outsourced too
Business development, also known as cold calling, is rarely a favourite task of business owners. However much you love your business, contacting leads and telling them why they should buy your product can be difficult.
On the other hand, if you don't actively reach out to new leads, your organisation might not expand at the rate you want it to.
Fortunately, by outsourcing your business development to someone who both enjoys it and is good at it, you can get the results you need to grow your business, without having to make the calls yourself.
Get Ahead was once a start-up. We have always outsourced – this blog was written by one of our copywriters, for example, and the website you're reading it on was built by one of our web designers. Outsourcing has enabled us to expand at the right rate for us, from a single office in Guildford a decade ago to ten offices around the UK in 2021.
Franchise opportunity
We are always looking for more franchisees. If you have solid experience of managing teams, and you're good at networking, you could be our next regional director. It's a flexible solution for people who want to work for themselves but not by themselves. You'll join our team of regional directors, finding clients and meeting their business needs by outsourcing to Get Ahead's virtual experts. To find out more, visit our franchise page here.
Find out more about our services or call 01483 332 220 to discuss in more detail.
---
---