Three ways outsourcing to Get Ahead can help your scale-up business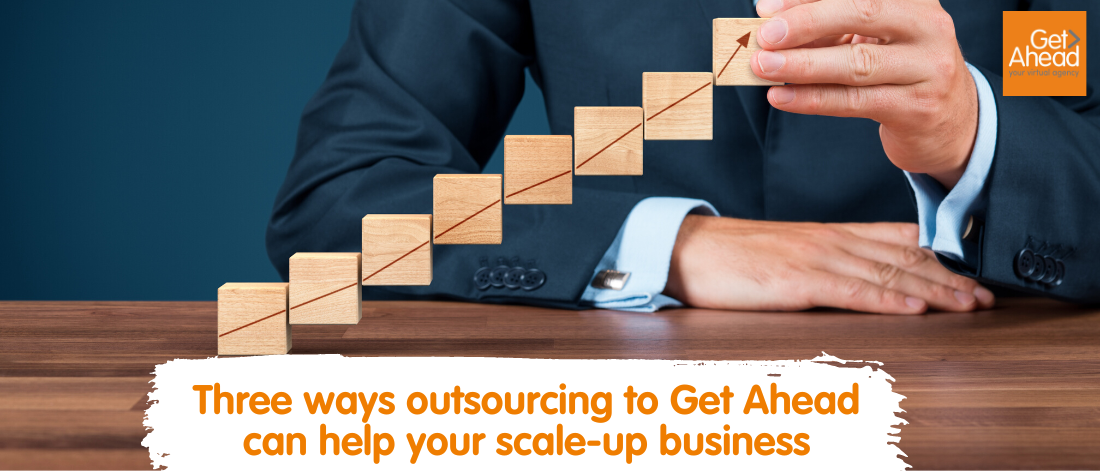 If your business is doing well and you're considering scaling up, outsourcing can be a great solution. Above all, it's flexible and cost effective, so you're not tied down when you don't know exactly what the future holds.
In this blog, we look at three of the ways outsourced business support can help you scale up your business.
Increase capacity as your business grows
If you feel your business could be growing, but you're held back by the number of hours you can work, outsourcing could be the answer. Handing your admin, social media, bookkeeping or phone answering over to someone else will free you up to develop your business. By playing to your strengths and outsourcing your weaknesses, you can expand your business in a flexible, cost-effective way.
Outsourced support also grows with you. When you first start outsourcing to Get Ahead, you might begin with a couple of hours a week of diary management to help you stay organised. But the good news is that you can increase the number of hours as your needs increase. Read our case study to see how this works in practice.
2. Flexible support while you push your boundaries
If you'd like to scale up but you're not sure how well it will go, outsourcing to a virtual assistant agency like Get Ahead offers you the chance to experiment. When you're trying out a new angle or breaking into a new market, our virtual experts can support you and share their own experience to help you succeed. Because of the financial benefits of using virtual support, expanding and exploring needn't be expensive. We've seen affordability give businesses the freedom to choose their own direction – something Get Ahead is proud to support.
If the experiment is a success, all is well and how you move forward is up to you. And if it doesn't work out, it's very easy to reduce the support you receive, or even stop it altogether. Either way, you'll know you thoroughly explored the option and made an informed choice about whether to take it forward.
3. Recruitment support for your growing team
Your long-term goal might be to become a larger business with full-time employees, but you'll need support to take on more staff. Depending on your business and what expertise you have yourself, you might benefit from taking on an admin assistant, freeing you up to recruit more people. Alternatively, you could use Get Ahead's HR experts to help you develop policies, guide you through employment law and recruit in the most effective way for your business.
Scale-up business support from Get Ahead
Get Ahead offers a range of outsourced business support services. There's no pressure to buy into a whole package – you simply use the services you need and only pay for hours worked. Our friendly regional directors are all very experienced at finding the right virtual expert for you, even helping you pin down what kind of support you need. To find out how Get Ahead can help you take your business to the next level, get in touch with your local regional director today.
Find out more about our services or call 01483 332 220 to discuss in more detail.
---
---