Sole traders and business coaches benefit from Get Ahead's support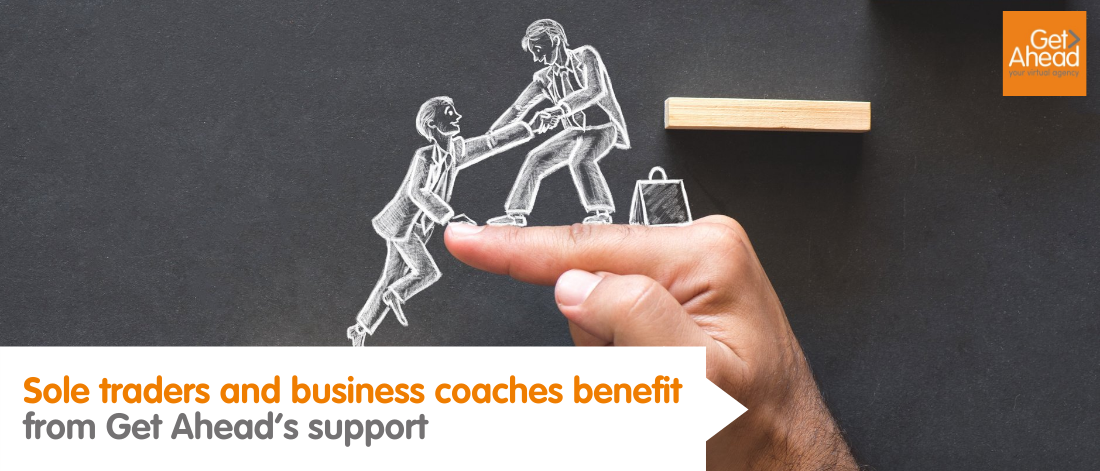 You've fulfilled your dream of working for yourself and being your own boss. This is great news – we're thrilled for you! But we also know that working alone can be tough. This applies to people in many professions, but particularly business coaches and life coaches, who give so much support to others that they sometimes neglect their own businesses.
In this blog, we look at ways to make working for yourself as fruitful and efficient as your business deserves.
The advantages of working for yourself
There are many advantages of working for yourself. No one tells you what to do, so you have complete autonomy. You have the freedom to make decisions, and you can base them on your own knowledge and experience. You never have to compromise.
You also don't have to pay anyone or manage absence or staff pensions – no HR responsibilities mean more time for you to put into your business.
Many coaches work alone for practical reasons – they deliver the coaching themselves in their unique style. They simply don't need a full-time team!
However, working alone can get lonely. It may be OK when the going is good, but if you experience a busy period or (God forbid!) receive a complaint, even the toughest of business owners may see the cracks appearing.
It's times like this when it can help to have the support of other people.
The advantages of having a team around you
However your business is structured, few of us can manage to work completely alone. It's important to have people you can call on if you're over-stretched, or who can bring that vital sense of proportion when you've lost your own. Fortunately, you can choose what role you want your team to have in your business, sharing responsibility with them or retaining control.
Some teams work quietly in the background. These people might deliver regular marketing communications or manage your CRM software. These team members have bags of self-motivation and initiative, and only need a little input from you. All you see is the great results.
Other business owners share an office with their team members, or at least communicate with them on a daily basis. These teams are often friends as well as colleagues, bringing not only workplace efficiency but also the social side of working together.
Others are somewhere in the middle, working remotely but there to provide moral support when you need it.
Get Ahead – the best of both worlds
If you would benefit from having some more support, but don't want to surrender the advantages of working for yourself, Get Ahead could be the solution. Our virtual experts can support you in almost any aspect of your business, from finance to marketing, social media to Zoom. Handpicked by us and among the best in their respective fields, they can help you get on top of your workload and feel more in control. And because they're all freelancers, you won't have any HR headaches to deal with.
Working with virtual experts leaves you with complete flexibility – we can deliver as many hours as you need. We believe in both quality and affordability so you can be confident you'll get the right support for your needs and budget.
Business support for business coaches and life coaches
We work with business coaches, life coaches and personal branding experts up and down the country, providing support at a number of levels. Why not visit our case studies page and get an idea of how we could help you?
Find out more about our services or call 01483 332 220 to discuss in more detail.
---
---