Outsource branding for a fresh approach – don't be afraid to rebrand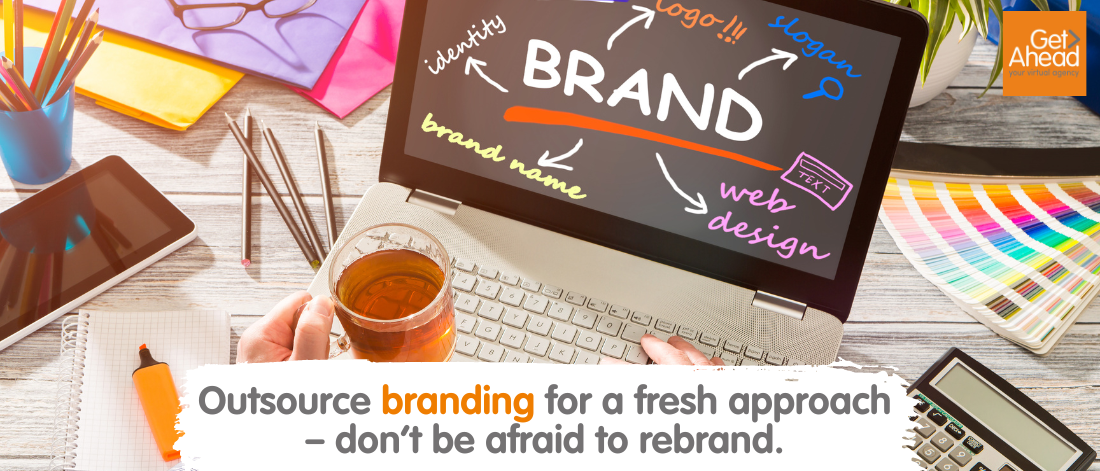 Outsource branding and benefit from a different perspective on your business. The decision to rebrand may feel like a big step and a risky one. However, in the long run, it's usually better to change your brand and strengthen it than to try and muddle along with something that isn't fit for purpose.
In this blog, we look at how you know you need to rebrand, the advantages of rebranding and why the decision to outsource branding can help.
How do I know I need to rebrand my business?
Most reasons for rebranding fall into one key category: your business has changed and you need to update your branding to reflect that.
For example, maybe your business started as an experiment and you threw together your branding on your own on a Sunday afternoon. But now that you're a serious player, it's time for a more professional look.
Or you might have started off selling one product or service, but your business has evolved and you're now known for something different. A rebrand will reflect what you offer now.
Your customer base might have changed, or you might be trying to diversify and attract different people. If that's the case, a rebrand could help you connect with your new customer group.
What are the advantages of rebranding my business?
Rebranding is a great opportunity to level up. You can create a stronger, more professional-looking brand, and work with professionals to create a unified brand strategy. This strategy will go far beyond the logo, and look in detail at colours, images, layouts and even tone of voice.
Rebranding will also encourage you to do a thorough audit of your business. When you're working with a branding expert to define what you offer, you'll have to look deeply at every area and examine your strengths and weaknesses. This will give you an up-to-date, accurate picture of your business that you can use both in the branding exercise and beyond.
Why outsource branding?
There are two key advantages of outsourcing your branding.
Firstly, you get to work with a branding professional who works in this area of marketing every day. This means that they are an expert in their field and they'll deliver great results.
Secondly, because they're outside your organisation, they will ask a lot of questions, from the very obvious to the very detailed. They'll take nothing for granted, and encourage you to look at what your business is really good at and how best to represent it to your clients and customers. This will give you a fresh perspective and may even highlights some strengths and weaknesses you hadn't noticed before.
Outsource branding to Get Ahead
If you think your business could benefit from some outsourced branding support, we'd love to hear from you. Contact your local regional director to find out more.
Find out more about our services or call 01483 332 220 to discuss in more detail.
---
---