Identify skills gaps that are stopping you from scaling up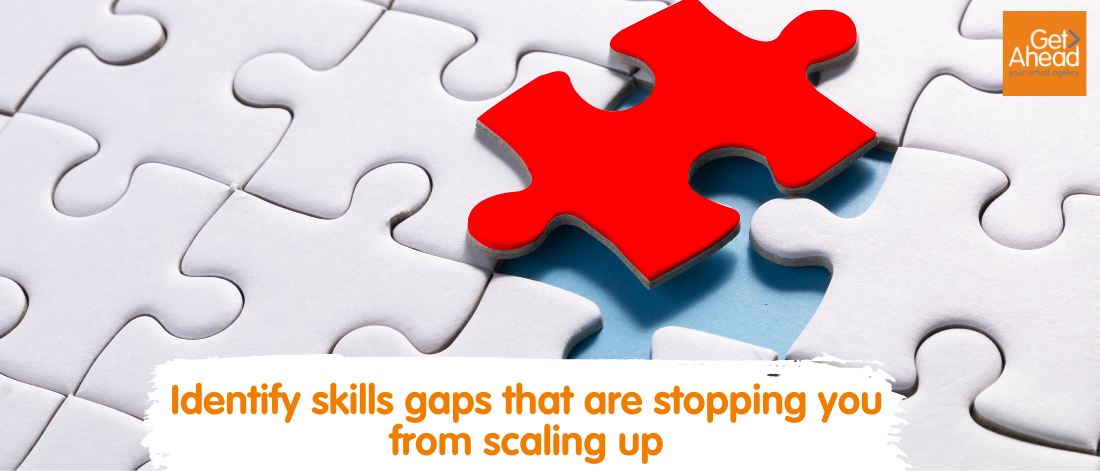 You've been running your business for a while and it's going well. Now it's time to scale up and take your business to the next level. But to do that successfully, it's important that you have the right skills at your disposal.
In this blog, we look at how to do a skills gap analysis so you can meet your business needs.
I've done it all myself for two years – why do I need more people now?
If you've been doing all your own admin, bookkeeping, marketing and business development yourself, that's great. You've learned every area of your business and shown that you can do it. However, hanging on to every task and needing to be involved with every decision will ultimately hold you back. You're only one person, and you cannot do the marketing, the finance, head up the business and be good at all of it.
To take your business to the next level, you need to bring more people in. To make sure you choose the right people who will deliver outstanding work, it's a good idea to do a skills gap analysis. This will show you what skills your business lacks, and help you focus on finding the right kind of people to fill them.
How do I do a skills gap analysis?
If you're a small business hoping to grow to a medium business, it can be a good idea to start your skills gap analysis with your to-do list. This will set out all the different responsibilities that rest on your shoulders. If you have team members, ask them to share their lists too. Combine them and write one long to-do list.
Then, you need to measure how good you are at each different task, e.g. social media, daily finance, tax returns, while also considering how important each one is for the business. Give each person on your team a score out of four (this removes the option for being right in the middle!). Scores of one or two suggest you might need some help, while scores of three or four suggest you're managing the task fine by yourself or within your current team.
For example, if you are not very confident about finance, you might give yourself a two. But finance is a key area, so bringing in someone with expert financial knowledge would be a good investment.
By contrast, your marketing assistant may be strong on graphic design but not a very good writer. If a weekly blog is bringing you business, it would be a good idea to find someone with strong writing skills. However, if images, reels and videos are working for you, writing might not be a priority and you can leave things as they are.
Once you've analysed the skills of your team and identified and prioritised the gaps, it's time to think about how you can fill them.
Now I know what skills I need – how do I find them?
You can address skills gaps in three ways: training, recruitment or outsourcing. The solution you choose depends on the problem.
Perhaps you have a head for figures but you find finance time-consuming. If that's the case, installing software like Xero or QuickBooks might help, and you could invest in training in how to use it. However, if finance simply isn't your thing, it would be better to bring in an extra team member to fill the gap.
How could outsourcing help my scale-up business?
Outsourcing through Get Ahead is a great solution for scale-ups because our way of working is completely flexible. You can increase and decrease the hours you use and pay for as your business needs change.
For example, you might need a lot of hours a week while you install a new system, but then dial back the hours once it's up and running. Alternatively, a virtual expert can increase their time with you as your business needs increase, so you'll run as smoothly with fifty clients as you did with ten. And if you level up again and decide to take on permanent employees, it's easy to draw the relationship to a close – with Get Ahead, you're never trapped in a long contract and you don't have to pay redundancy.
If you think your scale-up business could benefit from outsourced support, contact your local regional director to find out more.
And if you found this blog helpful, you might also like Breaking down VA stereotypes – how admin roles develop as your business grows – Get Ahead VA
Find out more about our services or call 01483 332 220 to discuss in more detail.
---
---