Get Ahead and business coaches – a great team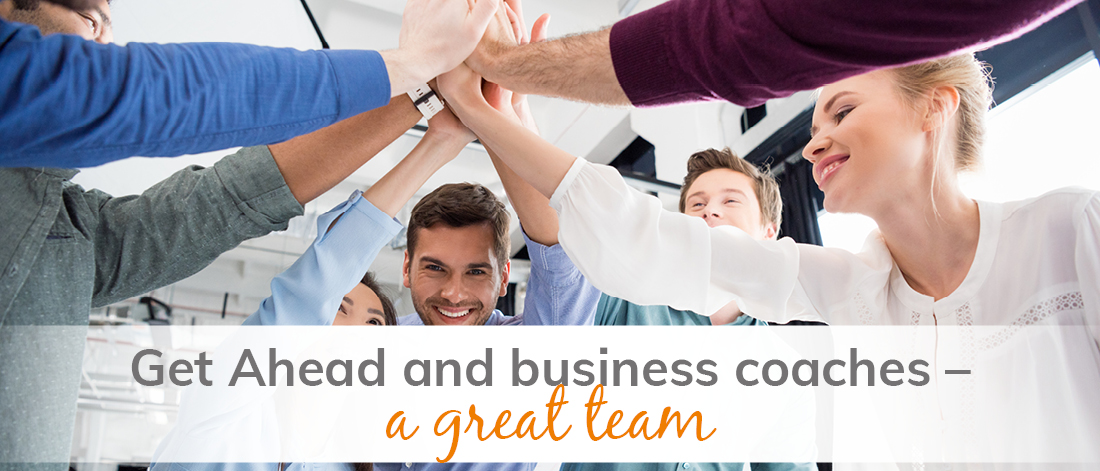 Get Ahead and business coaches share an ethos – we both exist to support businesses and help them thrive and grow. While a business coach will help you adopt the right mindset for success; Get Ahead will help you with the practical side of running a business.
In this blog, we look at why working with both a coach and a virtual expert might help you grow your business.
Business coaching – a tried and tested solution
You'll be hearing quite a lot from us this month on the subject of business coaching. One of the reasons we are so evangelical about it is that Get Ahead's owner, Rebecca Newenham, has worked with business coaches herself and seen great results.
With excellent support from her business coach, Rebecca was able to build confidence about her strengths and feel empowered to take her business forward. Off the back of this, she has set up franchises of Get Ahead and written a book on franchising and flexible working. This two-pronged approach has really put Get Ahead on the map, making it one of the UK's most successful outsourcing agencies.
And if it works for us, it could work for you too!
Get Ahead and business coaches work in tandem
If your business could be doing better, the combination of a proven outsourcing solution and an experienced coach could be the answer.
You might already know that Get Ahead are your virtual agency – outsourcing experts who can provide support in marketing, admin, phone answering, project management and more. If there are work tasks you're procrastinating about, or taking you away from your core business, the answer could be to outsource them to us – your reward for taking the plunge will be peace of mind.
However, we know there are barriers to outsourcing. And if not outsourcing is holding you back, that means it's a barrier to growing your business. That's where a business coach comes in. They can help you identify goals and how to reach them. They can help you find your strengths, building your confidence so you can break down those barriers and move forward in the right way for you.
Coaching plus outsourcing – your route to a better business
So how do business owners make this happen?
Some come to us first. You can talk to your local regional director about your needs, then the RD will connect you with the right virtual expert. Sometimes, they notice that clients would benefit from support from a coach too.
If you're not able to outsource because, say, you're aware you struggle to trust people, then talking to a coach might be the best way forward for you. Once the coach has helped you see yourself and your business more positively, you might well be in a better place to start your outsourcing journey.
Other business owners come to Get Ahead through coaches. Sometimes a coach will help a client identify that they've got too much on their plate and outsourcing is the solution. As so many coaches have been Get Ahead's clients over the years, those same coaches are quick to recommend us – we deliver the practical side to your new approach to business.
Get in touch to get started
When our clients have combined outsourcing to us with business coaching, they've seen amazing results. Every business owner deserves to do well and we firmly believe that working with both a coach and an outsourcing agency can be highly effective. To start the next chapter of your business story, get in touch today on 01483 332 220.
Find out more about our services or call 01483 332 220 to discuss in more detail.
---
---