Five top tips to stay on top of business admin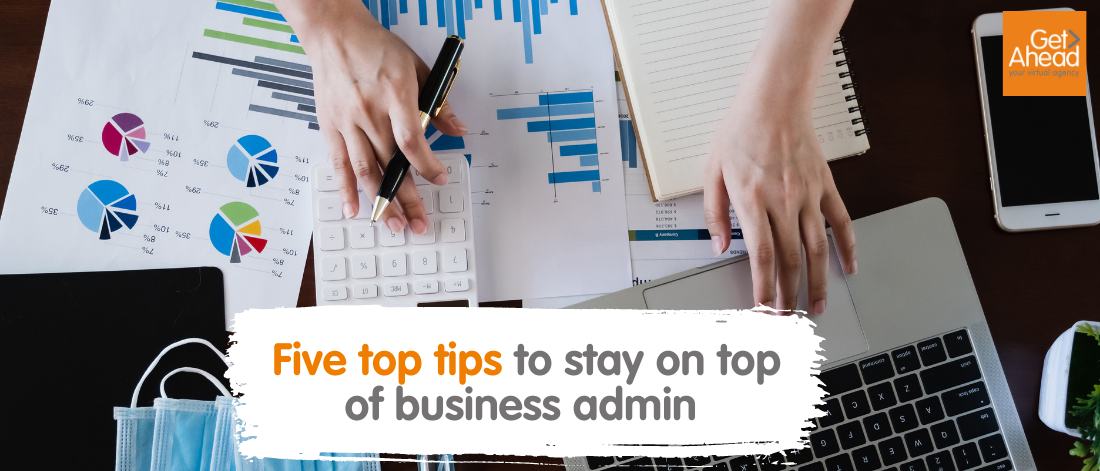 One of the headaches of running your own business is staying on top of the admin. However, it's not as big as the headache you find yourself with when you can't find a vital file or you're late with your tax return. Admin may not feel as important as your core business, but it still has to be done.
Here are our five top tips for staying on top of business admin:
Focus on the advantages
It's difficult to prioritise admin when you see it as a chore in itself. However, when you see it as a way of running your business more efficiently and even saving money, it's easier to feel positive about it and get it done.
By staying on top of your admin, you can find everything you need quickly and easily. This helps you run your office more efficiently, which can make the whole team more productive.
It's also easier to spot inefficiencies and areas where you're not getting value for money. For example, when you log correspondence about your outgoings, you can easily see whether you're getting the best deal or if you should consider changing suppliers. You can also check unpaid invoices and make sure you're receiving all the income you should be. Ultimately, keeping up with income and outgoings should help strengthen the financial position of your business.
Block off time for admin
Block off at least twenty minutes every day to attend to regular admin tasks. This will help you keep on top of them, and stop them becoming insurmountable.
It's also important to identify regular weekly, monthly and annual tasks so you can set aside time to complete these as they roll round. Why not use our infographic to help you plan ahead?
Get into good habits
You might have to be strict with yourself at the outset, but getting into good admin habits will pay off. Do small jobs as you go along, and finish what you start. For example, always using "save as" and storing your files in the right folders will save a lot of searching in the future. Taking an extra few minutes to complete your daily reconciliations could save you hours in the future too.
Invest in the right tools and software
Excel spreadsheets are useful and versatile, and are included in any standard Microsoft Office package. However, they have their limitations, and aren't as intuitive as purpose-built finance software and apps. If you don't already have Xero, QuickBooks, Sage or some other kind of accounting software, it might be time to consider investing in it – it will certainly save you time and might also save you money.
It's a good idea to review your systems of filing and reporting from time to time, to make sure that the process you're following still works for you. If you identify weaknesses, solve them – don't let outdated systems hold your business back.
Outsource your business admin
Of course, the other solution is to outsource your admin. Get Ahead has many experienced administrators who can make quick work of your filing and invoicing. Outsourcing is a great solution – the administrator will be able to complete all the tasks quicker than you can yourself. It's usually cheaper and easier to outsource a few hours' work each week, than it is to employ a part-time administrator. Best of all, by keeping on top of invoicing, you'll see financial benefits too.
To find out more about how Get Ahead's team can help you stay on top of your admin, get in touch today – we'd love to hear from you.
Find out more about our services or call 01483 332 220 to discuss in more detail.
---
---