Five reasons why time off work is important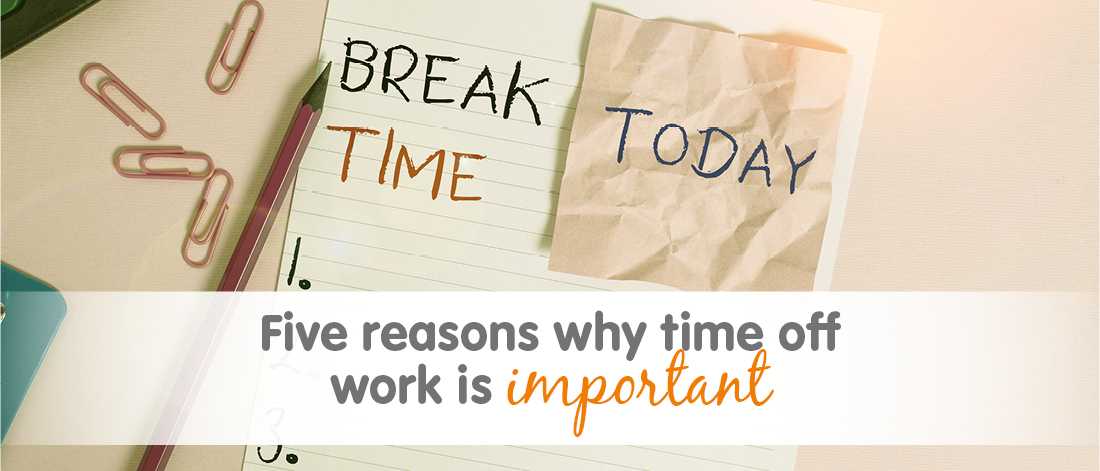 We can all benefit from time off from work. It's been harder during lockdown, without the structure of a booked holiday or seeing friends, and some of us have slipped into working "all the time." In turn, this has led to stress and working from home getting some very bad press! The reality is, however, that working without a break can undermine our productivity, as well as giving us no time to enjoy the rewards.
At Get Ahead, we believe that taking a complete break from work can be very beneficial and even boost productivity. Here are five benefits of taking time off work:
Recharge your batteries
When our phones are flat, we charge them up otherwise they don't work. The same goes for us human beings. But if you're taking better care of your phone than yourself, something needs to change. Having a holiday or even just a full day off can be very restorative, recharging your batteries so you can work better when you return to your desk.
Put problems in perspective
One of the reasons that time off is so effective is that it puts distance between you and work, allowing you to gain a sense of proportion and perspective. When your whole life is about work, every work problem can expand beyond all proportion and seem much more serious than it really is. This is bad for our stress levels and self-esteem. It can also lead to us giving disproportionate time to little problems, which can undermine our productivity. Fortunately, time off from work can help. When we return, we are often able to put problems in perspective and only give them the energy they deserve.
Improve time management
Working "all the time" is not efficient. Home internet connections and smartphones may be exciting innovations that are making some areas of life easier (they were certainly the saviours of lockdown!) but they also encourage some terrible time management practices. We end up working at weekends and in the evening because we can. We know we should be finishing the task during working hours, meaning it's off our desks and out of our heads. But with the smartphone safety net, we can afford to faff around – oh dear.
Fortunately, when we have planned time off, whether it's a single day or a week's holiday, we have to finish our work before we go. Miraculously, we find we can complete it all before our downtime starts – maybe something to remember when we return to work?
Feel more motivated
Time off is good for motivation. When we deliberately take time off, it means that we can give work and play both 100% of our attention. It's easier to compartmentalise. When we're working, our minds don't need to wander, because we know we've got wandering time blocked off in our diaries. When we're on holiday or a day trip or seeing friends and family, we don't need to think about work because we know we'll be back there on Monday morning. This means we feel more motivated at work, and get more joy out of leisure time too.
Protect ourselves against burnout
Burnout can be devastating. It's bad for our emotional and physical health and can lead to us not being able to work at all. It's important to spot the signs of burnout and take action before it's too late. Taking time off is an important way of protecting ourselves against burning out, as all the previous points show.
At Get Ahead, we help busy business owners get their time back by providing tailor-made outsourcing solutions. What you do with your newly acquired time is up to you, but we recommend using at least some of it for quality rest and relaxation.
If this blog has struck a chord with you, you might also like:
Could your business survive without you? Three ways to make sure it could! – Get Ahead VA
Outsource to a VA and reconnect with your "why" – Get Ahead VA
Find out more about our services or call 01483 332 220 to discuss in more detail.
---
---