Could your business survive without you? Three ways to make sure it could!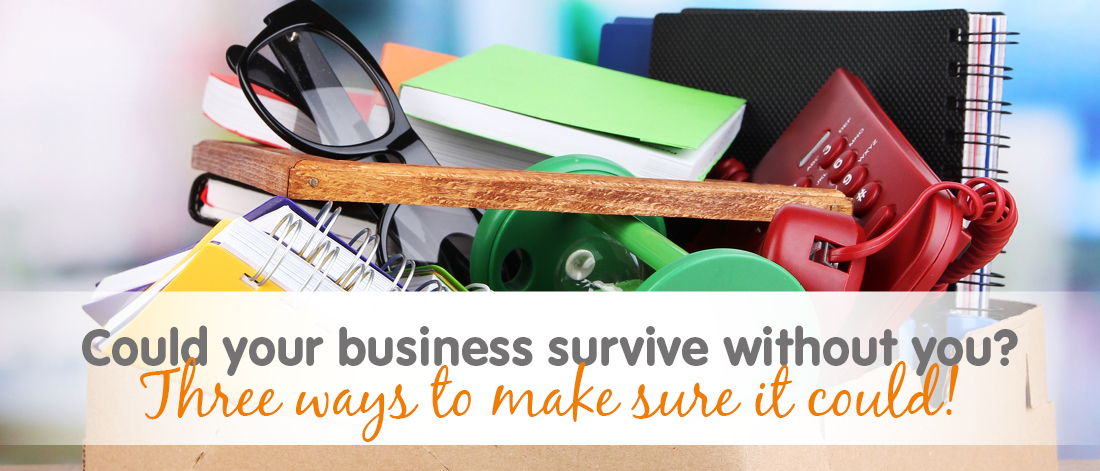 When we run our own businesses, we often give them our hearts and souls. The business can become an extension of who we are. For some of us, when asked "could your business survive without you?" it's tempting to proudly reply, "no it couldn't!" We might see ourselves as the lifeblood of the business – without our input at every level, everything would fall apart.
Why is it essential that a business can survive without its owner?
In fact, being indispensable to our business is neither healthy nor practical. Giving our businesses all we've got is understandable, but it's not a long-term solution. We all need a day off or a holiday from time to time otherwise we risk burnout. And what if we fall ill? What if there's a family emergency? For business continuity, it is essential that we run our businesses in such a way that someone else can step in and keep things ticking over when we're not there.
How can I organise my business so someone else could run it if necessary?
Put systems in place before it's too late
In order for someone else to run your business in your absence, it is vital that all your information is clear and easy to find. Tidy your computer files as you go along – when you save your work, save it to a labelled folder and not just to your desktop. Consider using a file-sharing programme like OneDrive or Dropbox so that others can get to your files via their own laptop or mobile device.
If your client details are on an Excel spreadsheet (or just in your head!) it's probably time to get a proper CRM system. This will record not just names and contact details but other information like how long the person has been a customer and how often they use your services. This information will make it easier for you to hand over to another person, and for them to give the right level of service.
Delegating tasks is an opportunity to show others how you run the business, as well as reducing your to-do list. Delegating ensures there is someone step up if you can't be at work. In addition, it puts you in a strong position to expand your business in future, and is good for employee retention. Remember that the person you delegate to might not do things exactly as you would, but as long as the business is thriving and the customers are happy, you have nothing to complain about. Keep a sense of proportion.
If you're a sole trader or you lack certain skills within your team, outsourcing might be the best solution. Get Ahead's clients outsource tasks to virtual assistants, who work online from home by accessing business owners' systems remotely. Get Ahead offers a flexible service so even if you usually outsource your marketing, for example, you can outsource your telephone answering and general admin while you're on holiday or off sick. Some of the virtual assistants feature in clients' business continuity plans – if the business owner can't be there, the virtual assistant knows the business well enough that they can become the temporary point of contact.
A well-run business should be able to survive without its owner. Disaster-proof your business by putting systems in place and working with people you trust – this will mean your business can keep going even if you can't. Reaching out for help is a strength, not a weakness.
Working with a VA can make a huge difference to your workload and business continuity, without undermining your role as business owner. To find out how Get Ahead can support you, get in touch on 01483 332 220 – we're here to help.
Find out more about our services or call 01483 332 220 to discuss in more detail.
---
---