Coronavirus turned your team into homeworkers? Here's what you can learn from virtual assistants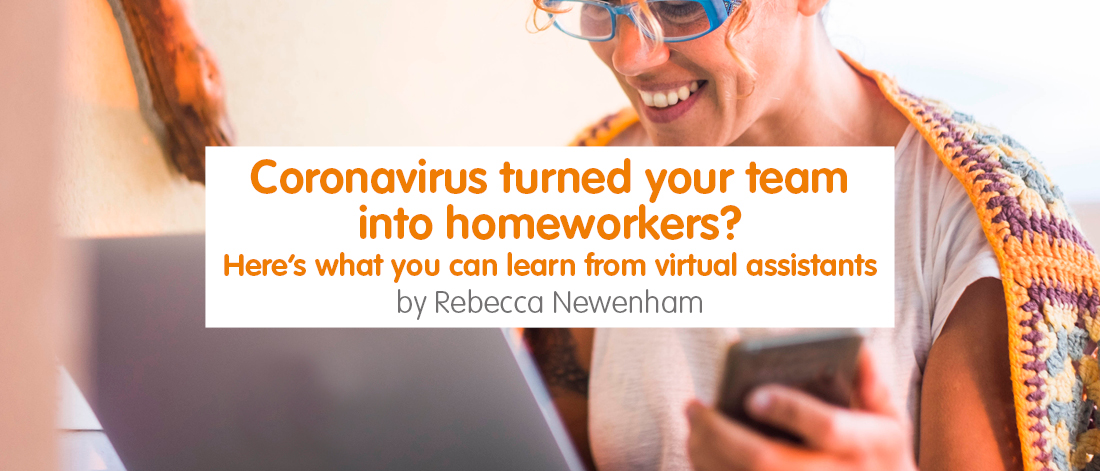 It won't have escaped your notice that coronavirus is having a huge effect on businesses, with direct implications for the retail and travel sectors. And as you'll know if you manage a team of office-based staff, the effect of self-isolation is becoming apparent too. As more people choose to self-isolate, more team leaders are finding themselves having to manage people working from home, which can be a new experience, and not always an easy one.
Virtual assistants nearly always work from home. I've been managing my team of virtual assistants for nearly a decade – a lot of what I've learned may help other businesses as workplaces are forced to flex around coronavirus.
Here are my top tips:
1. Communicate
When the team is no longer working in one location, there's a risk that communication might break down and employees might miss key information. There are plenty of apps out there for team management, and good old-fashioned email works very well too. I send a monthly update email to all my VAs, as well as other messages as situations arise.
Clear expectations are also very important when your team is working from home. It's a good idea to be specific about what you want to see done and give it a deadline. Not everyone is as fully motivated at home as in the office but giving them targets will help them to stay on track, and save you from having to micromanage individuals when you should be leading your business forward.
2. Choose tech that helps you work together
Google docs are one of those inventions that have been around for a while but are still a great way of working with colleagues to produce a single piece of work. Dropbox is great for online picture and file-sharing, while cloud-based Office 365 puts all your spreadsheets and Word documents online (and secure!) for ease of access. Some team management apps have come out recently too, including Monday.com and Microsoft teams.
3. Improve your phone services
Many offices have already made the move to VoIP telephone systems. VoIP stands for voice-operated internet protocol, in other words, talking to clients and colleagues over the internet instead of down a standard phone line. WhatsApp is probably the example you're most familiar with. What's great about VoIP is that your number stays with you wherever you go – you can answer your "landline" number from your main office, your mobile or even at home. Your clients don't even have to know you're not in the office this week – it should make no difference to them.
If you don't yet have VoIP and you need a comms solution quickly, our telephone answering service could be what you're looking for. I trust many of my own business calls to the GetAhead phone answering team when I'm in meetings – there's no substitute for leaving a message with a real person.
3. We're all still human!
We mustn't forget the need for social interaction. Think of all those dress-down Fridays you've organised over the years, people bringing in cake on their birthdays, not to mention all those quick questions that need an answer not a meeting. These are really important elements of working as a team and you shouldn't underestimate their effect on morale. Chances are everyone's dressing down to work from home, but there's nothing to stop people sharing birthday messages and doing the online equivalent of catching up while the kettle boils. The GetAhead VAs have a Facebook group for this kind of thing – we celebrate a lot of birthdays and get all our MailChimp niggles sorted out there too! Keep everyone working and playing together even when they're scattered across by giving them the right tools and understanding their value.
There are many ways in which we can embrace home working and make it a positive and productive step for our businesses. Who knows, maybe when coronavirus is finally under control, more of us will continue to work from home. There's enough innovative technology to make this possible – all it needs is the right attitude from us and our teams.
Find out more about our services or call 01483 332 220 to discuss in more detail.
---
---