Business expos – attract more clients and build your franchise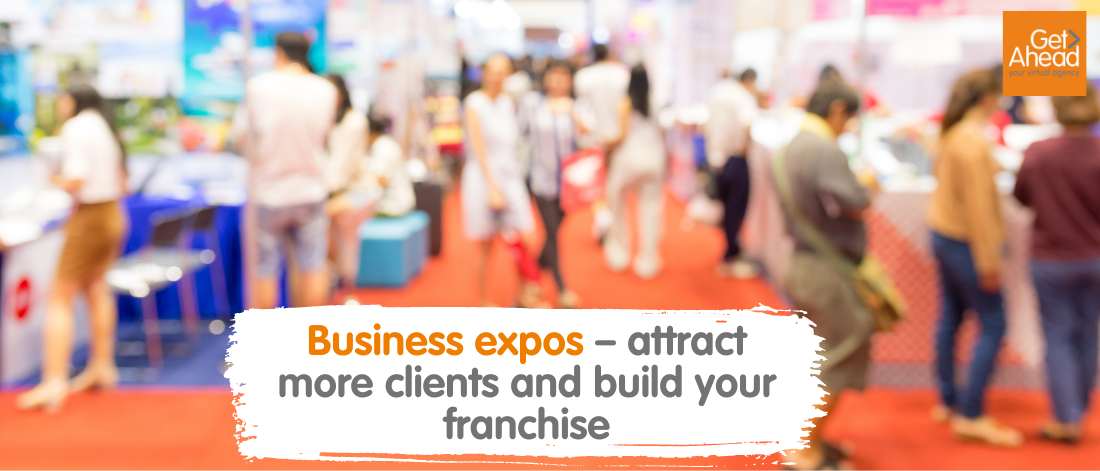 Attendance at business expos is a significant part of the role of a Get Ahead franchisee. Expos are a great way to attract new clients, and also to tap into the wealth of knowledge available at the event.
In this blog, we look at the benefits of business expos, and why they are important for Get Ahead's regional directors.
What is an expo?
Depending on what roles you have held in the past, you may or may not have encountered business expos. When we say "expo," we mean an exhibition of businesses. These events are usually held in large venues, and many businesses – usually with either location or industry in common – will have stands where people can visit them and find out what they do. Most expos last either one or two working days, and many include a conference element with speakers, seminars and networking events.
What are expos for?
Expos are a good marketing opportunity. Exhibitors can promote their business to a captive audience. For example, when Get Ahead attends franchise exhibitions, we know we'll be meeting people who are interested in buying franchises, and these are exactly the kind of people we want to meet! Our established regional directors also attend local business expos, promoting Get Ahead's services to businesses on their patch who may need the kind of support they can provide.
Expos can provide great opportunities to share best practice too. We've learned to take speaking opportunities if they're offered to us – sharing Get Ahead's ethos with a room full of people is a good way to spread our message while also introducing the people behind the brand.
Visitors and exhibitors can also attend the talks, workshops and seminars. In essence, this means you can tap into free training courses, developing your skills and gathering new ideas to make your franchise run even better.
Why are expos important for Get Ahead franchisees?
When you join Get Ahead, we'll support you all we can. We'll share our marketing materials with you, and provide training tailored to your background. With this behind you, it will be time for you to find clients in your region. Most of our regional directors do this through business networking, social media and expos.
When you take your branch of Get Ahead to your local business expo, you'll be able to broaden your network and even meet new clients. Expos are your opportunity to have an initial conversation, listening to the challenges your visitors face and coming up with ways Get Ahead could help. This might also help you build up a picture of businesses across your region so you can make a strategic plan.
In the past, our regional directors have accepted speaking opportunities. This has allowed us not only to promote Get Ahead from a stage at the venue, but also have our names on the list of speakers, giving us extra visibility.
We've also run competitions, offering a free sample of our work in the hope that the pro bono client will turn into a paying client (it's been pretty successful so far!).
Get Ahead franchisees attend business expos
It's been great getting back to in-person expos after the pandemic, and Get Ahead has seen some fantastic outcomes. To find out more, check out our LinkedIn page.
---
---