8 reasons our clients love us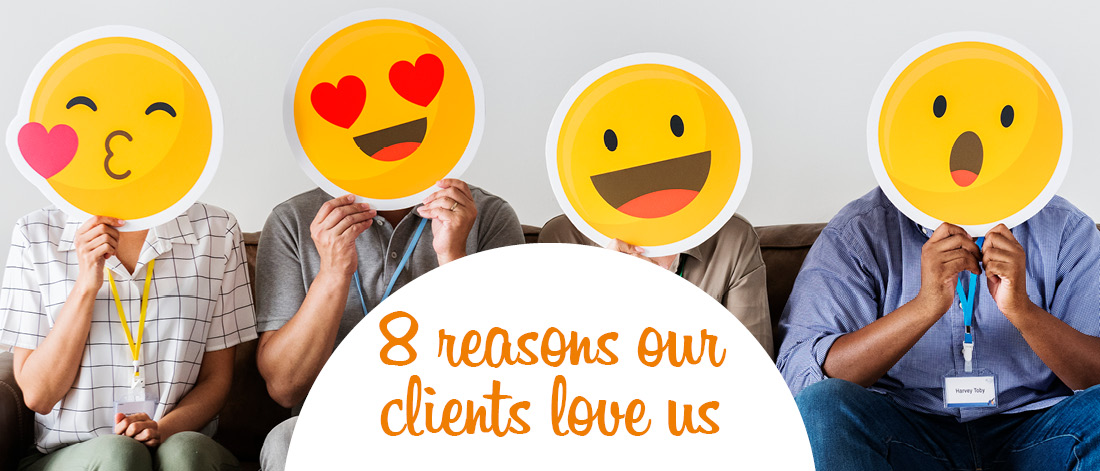 In the month of Get Ahead VA's 8th birthday, we'd like to celebrate by looking back at some of the lovely things our clients have said about us over the years. We pride ourselves on doing good work for all our clients, and when they're happy we love to hear about it! So here are 8 quotes from our clients about why they love Get Ahead VA.
"Working with Get Ahead VA has been a godsend. I simply did not have the budget to hire a part-time dedicated person to focus on my social media needs, or the time to manage them. My VA designed a social media strategy for me. Social media marketing is now an effective part of our business strategy, thanks to Get Ahead VA."
—Martha, FabLittleBag
"The great thing about Get Ahead VA is that they are an extension of your team. With the fluctuating demands on human resources which are typical of start-ups, we prefer to invest in staff who align with our core business, and outsourcing everything else is a great idea. We are making good progress and that is proof of the great partnership we have with Get Ahead VA."
—SmallOutside.com
"One of the big benefits of Get Ahead VA is the breadth of knowledge the team provides. We are taking on new clients and we know that at the touch of a button we can have help and support from the team at Get Ahead, which means we can concentrate on the things that matter to us and our business."
—Tracey Barney, Guildford HR
"We didn't really know what sort of help we most needed and how long it would take – but we knew we needed help. Working with Get Ahead VA has made a real difference. We now have some momentum and energy for business development. We are moving forwards in a positive way and are confident that it will pay off through increased sales in the longer term."
—Taylor Clarke
"Knowing that we are not tied in and that we can simply pay as we go, only paying for exactly what we need, when we need it, made it better value for money. As a result we have been able to grow the business sustainably and with peace of mind – working with people we know we can trust."
—Josh, AOS
"I look at the Get Ahead VAs as members of staff. They have enabled me to be more effective in the way that I work, knowing that I have strong individuals working with me who I can trust to manage every scenario."
—Warren Knight
"For me the flexibility of a VA was the key. Being able to pay by the hour for only the services I needed, as and when I needed them, was the best solution. I now spend more time taking photographs and developing my business – doing what I do best."
—Moritz Schmittat
"For us it's about personality. Rebecca manages to find people who are quick thinking, engaged and very personable. It feels like I'm moving forward with trusted people at my side."
—Sam Farrow, Farrow Creative
---
If you would think you could benefit from a virtual assistant, Get Ahead VA is happy to help. Our highly experienced team loves to take on the tasks you don't have the time or the skills for, or simply don't want to do. Please get in touch on 01483 332220 or office@getaheadva.com. We pride ourselves on being the staff you don't see, but the difference you do.
Find out more about our services or call 01483 332 220 to discuss in more detail.
---
---