Why work with a Get Ahead Regional Director?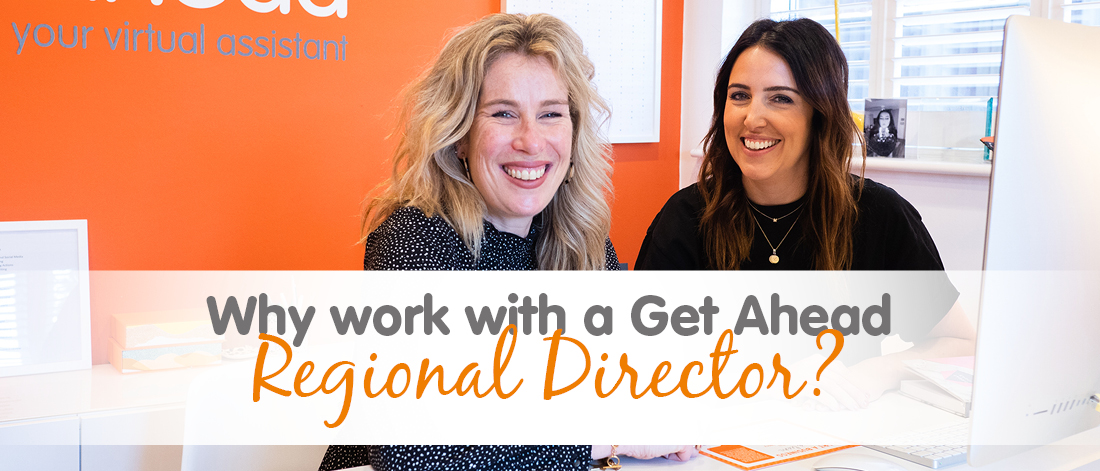 By Marie Peters, Regional Director for West Surrey
Get Ahead operates in ten locations around the country, each with its own regional director. The regional director is your central point of contact, connecting you with the right virtual assistants, managing their output and tailoring the package to meet your business needs.
This blog looks at the role of regional directors and their part in delivering the right support for your business.
Our expertise
All the regional directors have extensive corporate backgrounds with in-depth experience in key areas of HR, marketing, recruitment, operations and client servicing. We have the industry knowledge, commercial acumen, best practice experience and hard skills to understand your business challenges and suggest the most suitable solutions.
Business Owners
As business owners ourselves, we also understand what's really involved in running a business and the pressures, challenges and opportunities that can bring.
Consultative approach
Regional directors can offer a 'fresh pair of eyes' and independent view of your business. Whether the brief is to solve a problem, widen a bottleneck, meet a challenge or achieve a growth target, we can help you break it down into an action plan and provide an outsourcing solution.
You may be completely clear on what you want to outsource, but a lot of the time our clients know they need help but are not sure where to start. As consultants, we will work with you to understand what you are trying to achieve for your business and how we can help to reach your goals.
A trusted pair of hands
Once we have established what you want to achieve and the best solution to get there, we will carefully match you with an individual or a virtual team based on the skills you need and your working style.
We become your Success Manager. We will make sure you have what you need to achieve results and that every element is working together, through team and project management.
A central point of contact
You will receive one monthly invoice and one point of contact, but access to a wealth of skills and expertise you would struggle to find in one person.
An evolving relationship
Things change! We understand that businesses are always evolving and therefore so do your needs and requirements. We can adapt your virtual team to match this; pulling in additional resources or skill sets as your business needs change. Our agile approach saves you the time and money that would be associated with managing an in-house team.
An adaptable team
We pride ourselves on our customer service and appreciate any feedback during the working relationship. We understand that personality is a huge element of working together, so if your needs change or for any reason things don't work out, we can easily look at alternative options for you to save your time and energy with the 'recruitment process.'
Our role as regional directors or success managers is to form that all-important layer between your virtual expert team and you – we ensure your expectations are understood and delivered, if not exceeded. To find out more about how our regional directors can support your business, get in touch today on 01483 332 220.
---
About Marie:
I spent over 15 years supporting some of the UK's largest brands with their communications strategy and digital marketing campaigns at major agency groups. With experience in both strategic planning and implementation, I have the ability to see the big picture and focus on long term vision, but equally take a hands on approach to achieving key targets and results.
I started running Get Ahead in Surrey in Jan 2020 as I wanted to continue to use my skills and experience, but with more autonomy to work flexibly around my family and home life. I have two young daughters who keep me busy and am always planning a holiday or weekend away – preferably somewhere sunny!
I take time to understand the challenges my clients are facing or their ambitions for growth. Being able to help businesses identify what support they need to grow and thrive and providing that through our virtual team is really rewarding. Our flexible outsourcing solutions give them back time to focus on growing their business and spending their time on what they do best.
---
---