What is a business accelerator?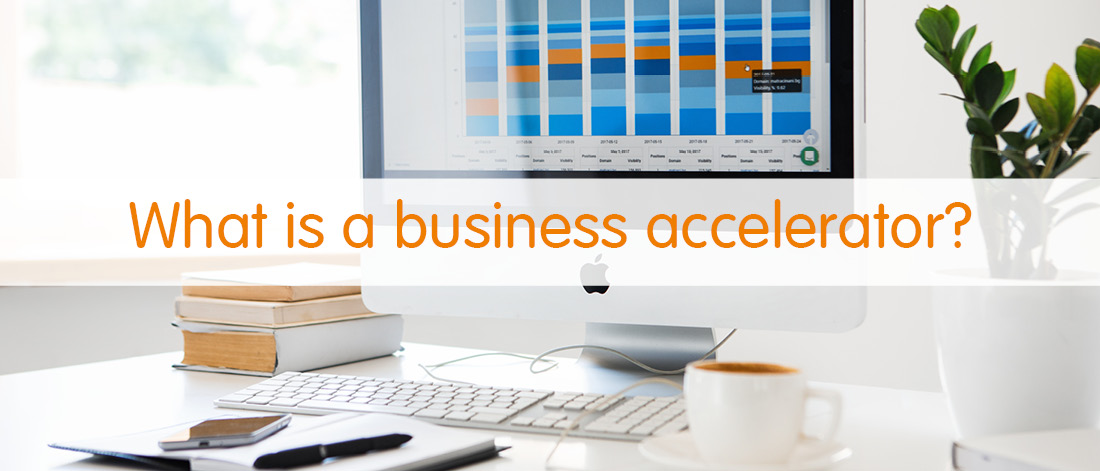 If you are looking to start or grow your business, then you might be thinking about using a business accelerator. But what are they and what do they actually do? Are they the same as business incubators or different? Here we try and demystify some of this growing area of business development.
Businesses Accelerators are organisations that offer a range of support services and funding opportunities for startups
Business accelerator programmes are designed to grow small businesses or start-ups in a short space of time. They usually work by enrolling you in a programme which offers mentorship, office space and other resources as well as access to capital and investment in return for equity.

The programmes typically last from between 3 and 12 months so they are not for the faint hearted. Intensive (yet sometimes incredibly effective), they deliver significant exposure as well as access to networks of investors and sources of funding. They can help turn your dream into reality, if you pass their stringent criteria.
Highly competitive applications
Due to the nature of the expertise and funding on offer, business accelerator programmes are usually very competitive to get on to. Your idea really does have to stand out from the crowd and have the potential to deliver a significant return. Application processes include online entry forms as well as interview or selection days. Some involve 'bootcamps' as well as the need to pitch your idea to a panel of investors or sponsors. For very early stage ideas, you may not even have a business plan so you will be assessed both on the strength of your idea as well as your own background and expertise.
Do your research
If you are considering a business accelerator then doing your homework is vital. Recent research by Nesta, the UK's innovation foundation, identified 205 incubators and 163 accelerators currently active in the UK so there are plenty to choose from. Each has different areas of expertise, as well as different levels of investment or equity requirements and different fees for the programmes available. Some are backed by banks – others by universities or private investors. Others simply offer co-working space and support services such as IT, without the need for equity investment.
High profile success
A business accelerator might not be for everyone, but there are certainly a few huge success stories. Household names such as AirBnB and Dropbox were both graduates of the first business accelerator, Y Combinator in Cambridge, Massachusetts.
---
However you are looking to grow your business, our team of highly experienced virtual assistants are here to help. We offer a wide range of business and marketing services, from researching funding options through to delivering social media campaigns or simply taking on your admin to allow you to get back to what you do best – growing your business.
We can even help you start your own business through our franchising opportunities.
To find out more please give us a call on 01483 332220 or email us at office@getaheadva.com. We pride ourselves on being the staff you don't see, but the difference you do.
Find out more about our services or call 01483 332 220 to discuss in more detail.
---
---